CBD Oil for Pets 250 MG
Super Potency
250 Mg
C02 Extraction
100% Non Psychoactive
Raw and Organic
No Preservative and Additives
Bottle Size : 5 ml Amber Glass Bottle
Packaging : Biodegradable Jute Potli Bags

Ships in
# Time required to prepare order for shipment is one day.

Average delivery time
# Average time required for delivery after shipment is usually 4-5 working days.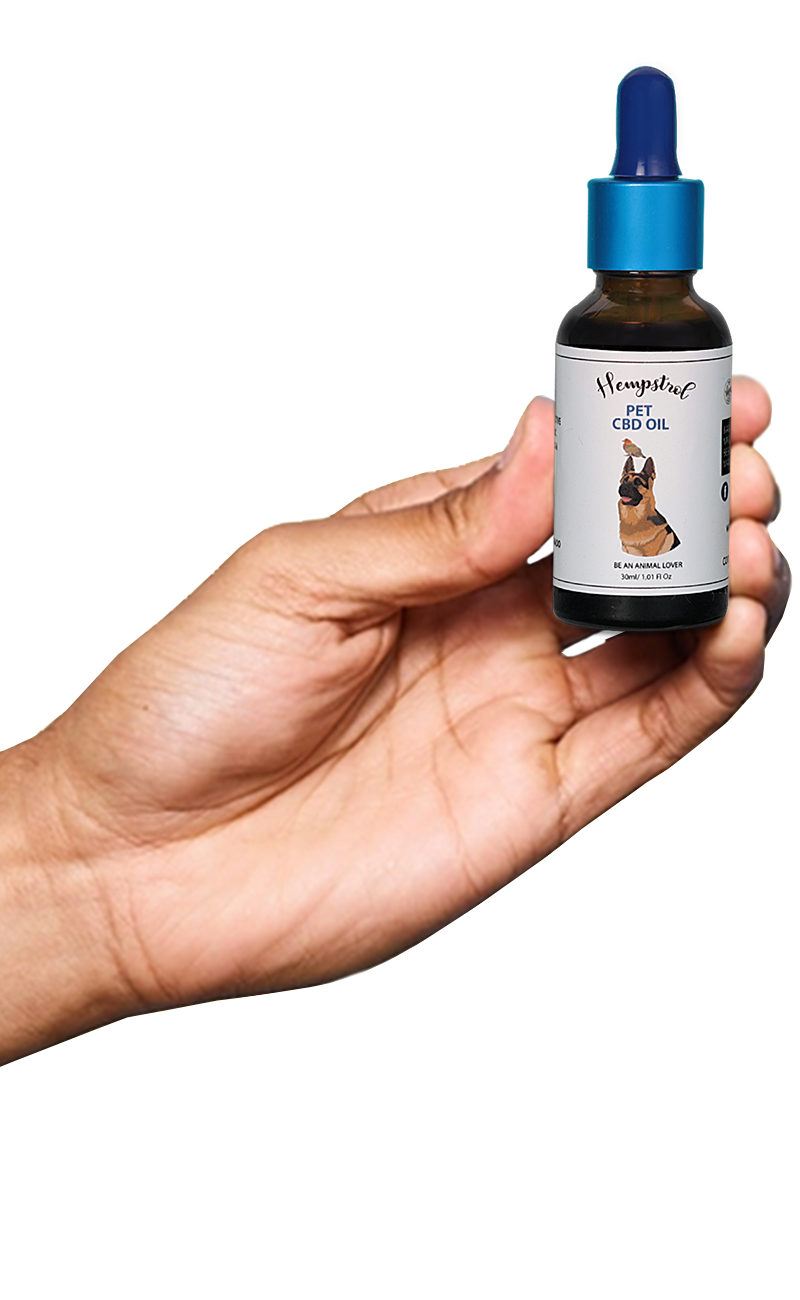 Just like Pet's treats, grooming products, and play toys for your dogs are different, your dog's medication and health supplements should also be different. If you think along the same lines, you are going to love our product- CBD Oil for Pets 250 MG, specially manufactured for your furry friends. At Hempstrol, you can speak to our Veterinary specialist to prescribe CBD medication to your pets and how you should administer it.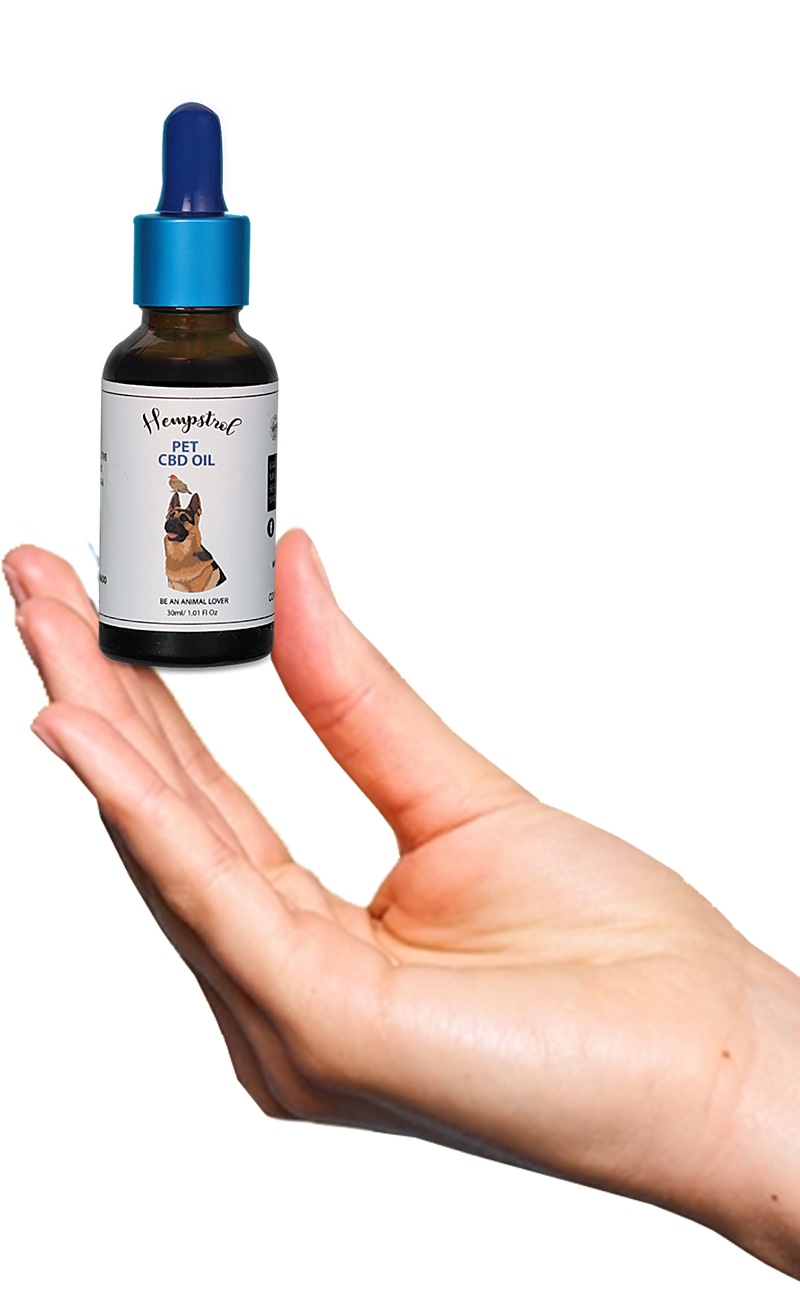 Who can use CBD Oil for Pets 250 MG?
The CBD Oil for dogs in India can be used not just for your Dogs but for Cats, Household Birds, and all Domesticated Animals of all sizes and ages. However, prior medical consultation is suggested to ensure you give the apt dosage to your furry friends.
How is this CBD oil for pets manufactured?
All of our products designed for pets are made with 100% organic hemp and only selected healthy hemp plants, grown indoors, have been used in the composition. Hempstrol's full Spectrum Extract is made by our finest oil extractors who have experience of more than 25 years. The composition doesn't contain additives and the only ingredient in it is therapeutic hemp.
I use CBD oil, can I give the same to my pets?
No, you should not give regular CBD Oil to your dogs. Although there are various CBD oil manufacturer in India that currently say their CBD Oil is Pet-friendly and can be administered to your pets without any effects, however, one should refrain from taking such claims at face value. It is recommended and suggested to give CBD oil meant for dogs to your pets for the following reasons:
1) The bloodstream in dogs and humans behave differently
2) The organs of us humans and dogs are not the same kind; that is, they function differently for specific purposes
3) The dosage that a dog requires is different from the dosage that we humans require for treatment
4) The structure of the endocannabinoid system is not the same as in humans and CB1 and CB2 receptors work differently in dogs as well as humans.
Hence, due to the aforementioned reasons, you always get CBD for Pets that have been specially formulated for your dogs and cats to help them in their pain and recovery.
As a pet owner, how should I give CBD oil for pets to my dogs?
CBD Oil for Pets 250 mg can be incorporated into your pet's life by taking a medical consultation either with your vet or our vet on-board who will not only guide but also advise you on how much MG you should give to your pets by taking into account their health condition. It can be mixed in your Pet Food or just add suggested drops on pet treats. You can also directly give CBD oil to your dogs /cats using a dropper according to the dosage prescribed by your vet. In case you're still confused we would want you to not worry as our Cannabinoid Pharmacist will help you out. For pets that are suffering from a disease, we suggest you book a medical consultation with our vet on board; they will write you a prescription and will indicate the number of CBD drops required for your pet for better recovery and well-being.
What to check before selecting CBD oil for dogs?
Always ask these questions to the manufacturer you are considering buying CBD from because not all CBD products for Pets are the same. A Full Spectrum best CBD Oil for Dogs is the best option to go for as its effects are much quicker and would bring quick relief to your pet. The hemp industry is the one 'you get what you pay for and always remember that selecting a cheap product means that it will take a long time to treat your pet or in some cases might not treat your pet's conditions at all. Hempstrol is the only Hemp Company in India that is registered with the medical and health department of Rajasthan (Drug Control Organization) and offers medical consultation with the vet on board.
Disclaimer
Regardless of where you buy your CBD oil for Pets 250 Mg, it is important to make sure that the company you choose is GMP compliant and has up-to-date third-party lab results for all its products as this validates the quality and efficacy of the chosen product. Our manufacturing unit is one of the few companies to be GMP certified with an ISO 8 certified lab.
Ultimate CBD Oil for Pets 250 MG Buying Guide