CBD Oil for Pets 1500 MG
Super Potency
1500 Mg
C02 Extraction
100% Non Psychoactive
Raw and Organic
No Preservative and Additives
Bottle Size : 30 ml Amber Glass Bottle
Packaging : Biodegradable Jute Potli Bags

Ships in
# Time required to prepare order for shipment is one day.

Average delivery time
# Average time required for delivery after shipment is usually 4-5 working days.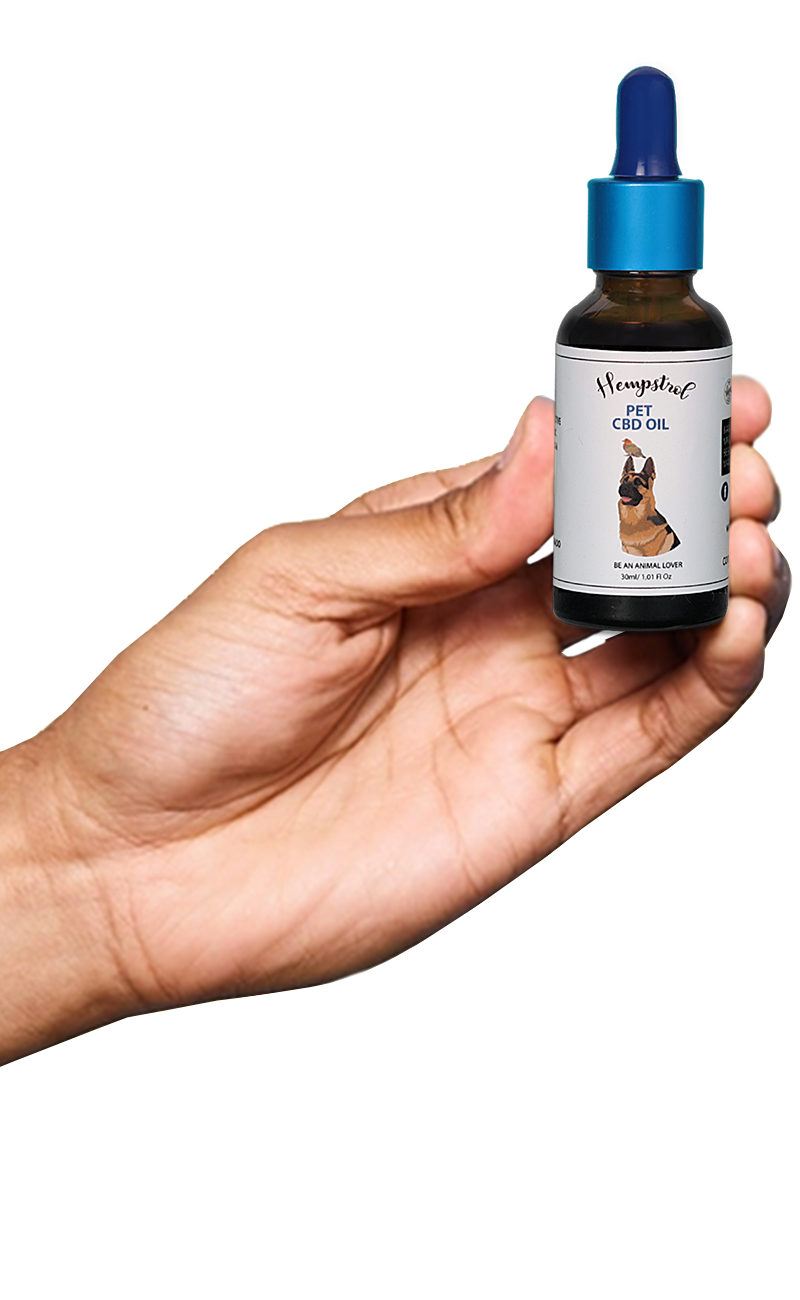 CBD advocates several benefits for humans but can it help our four-legged friends too? Well, the studies seem to be saying so. From reducing seizures in epileptic dogs to increasing activity in them, CBD oils for pets have started to gain momentum. At Hempstrol, we have created a different range of CBD-based products specifically meant for pets. This Full Spectrum Extract is made by our finest oil extractors who have experience of more than 25 years.! Our industry-leading extracts contain absolutely no additives and the only ingredient is therapeutic hemp! Our Best CBD oil for dogs has a concentration of approximately 1500 mg of CBD per milliliter of oil.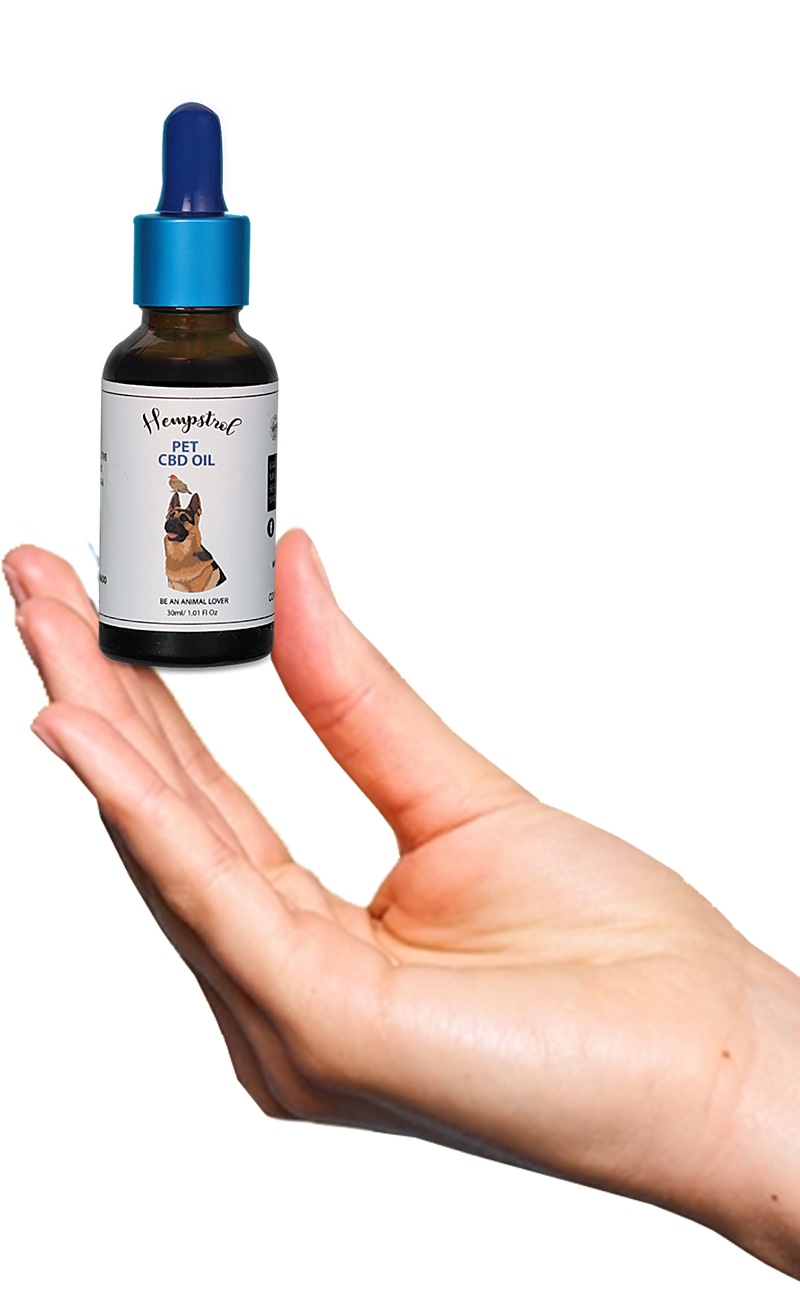 How Hempstrol's CBD oil for pets is different from other brands?
Hempstrol's Full-Spectrum CBD Oil contains synergistic cannabinoids of top-quality CBD, CBG, CBN, CBC, and other compounds to optimize your well-being. The efficacy of any CBD-based product depends upon where it is sourced and the extraction technique the company has adopted. Hempstrol uses a combination of both Subcritical and Supercritical extractions for their Signature CBD oil which results in a potent product. Our CBD Oil for pets product is derived from the world's best hemp farms in Colorado and is further lab tested to ensure its quality and quality.
Hempstrol offers its customers different mg of CBD for pets such as 500mg, 750 mg, 1000 mg, 1500 mg. which a consumer can choose as per their preference.
What are the Ingredients of CBD Pet Oil?
Hempstrol's CBD Oil doesn't contain additives, herbicides, pesticides, or chemical fertilizers preservatives, and is made from non-GMO hemp plants grown on selected farms in Colorado, USA. When you buy our CBD Oil meant for pets products from us, you can be assured of quality and purity as all of our wellness products are lab-tested for.
How should I give CBD oil to my pets?
Self-administering CBD Oil can be tricky as our pets are more prone to sensitivity than humans. You need to know how to administer it properly without letting it cause them to suffer any side effects. The dosage of CBD oil depends on your pet's weight and the disease they might be suffering from. The more severe the disease is, the higher the consumption of CBD Oil is needed. Generally, CBD Oil is measured in three categories: Micro, Standard, and Macro doses. Hempstrol advises you to speak to our vet on-board to get the exact dosage of CBD oil as per the disease they are suffering from. Our doctors will draft a treatment plan for your pets that would surely be beneficial in treating their issues.
Can CBD Oil work on my pet's Arthritis problem?
Scientists have been studying the impact of CBD Oil on Arthritis for years. Arthritis is a condition where your pets or dogs feel unbearable pain in their joints and thus couldn't move from their place. If you see your dog sitting in one place for hours, it could mean either they are having anxiety or having disturbing joint pain. After years of in-depth research, we can say the combination of CBD for pets and CBD for Pets Balm has shown great efficacy in controlling Arthritis in our dogs. There are various types of products that have Cannabidiol compounds in their main composition and are available in the market at present and we suggest you select a top quality product only from Hempstrol. The cheaper product you buy, the more time it's going to take for CBD to treat Arthritis. CBD Industry is the one where you get what you pay for and we suggest you always make Hempstrol your first choice as we provide you the best CBD Oil for dogs India.
Will CBD Oil for pets make my dog or cats feel intoxicated?
No, it will not. It will make your dog feel energetic, relieved, calm, and other good things but not the intoxication associated with Marijuana. Under the science behind it. The Cannabis Sativa known as the Industrial Hemp plant has various complex chemical compounds. THC is the most commonly found one and is known to have psychoactive properties. Best CBD oil for dogs doesn't have such psychoactive properties thus, the effects of CBD are quite subtle on your pet's body.
Ultimate CBD Oil for Pets 1500 MG Buying Guide