CBD Oil for Pets 500 MG
Super Potency
500 Mg
C02 Extraction
100% Non Psychoactive
Raw and Organic
No Preservative and Additives
Bottle Size : 10 ml Amber Glass Bottle
Packaging : Biodegradable Jute Potli Bags

Ships in
# Time required to prepare order for shipment is one day.

Average delivery time
# Average time required for delivery after shipment is usually 4-5 working days.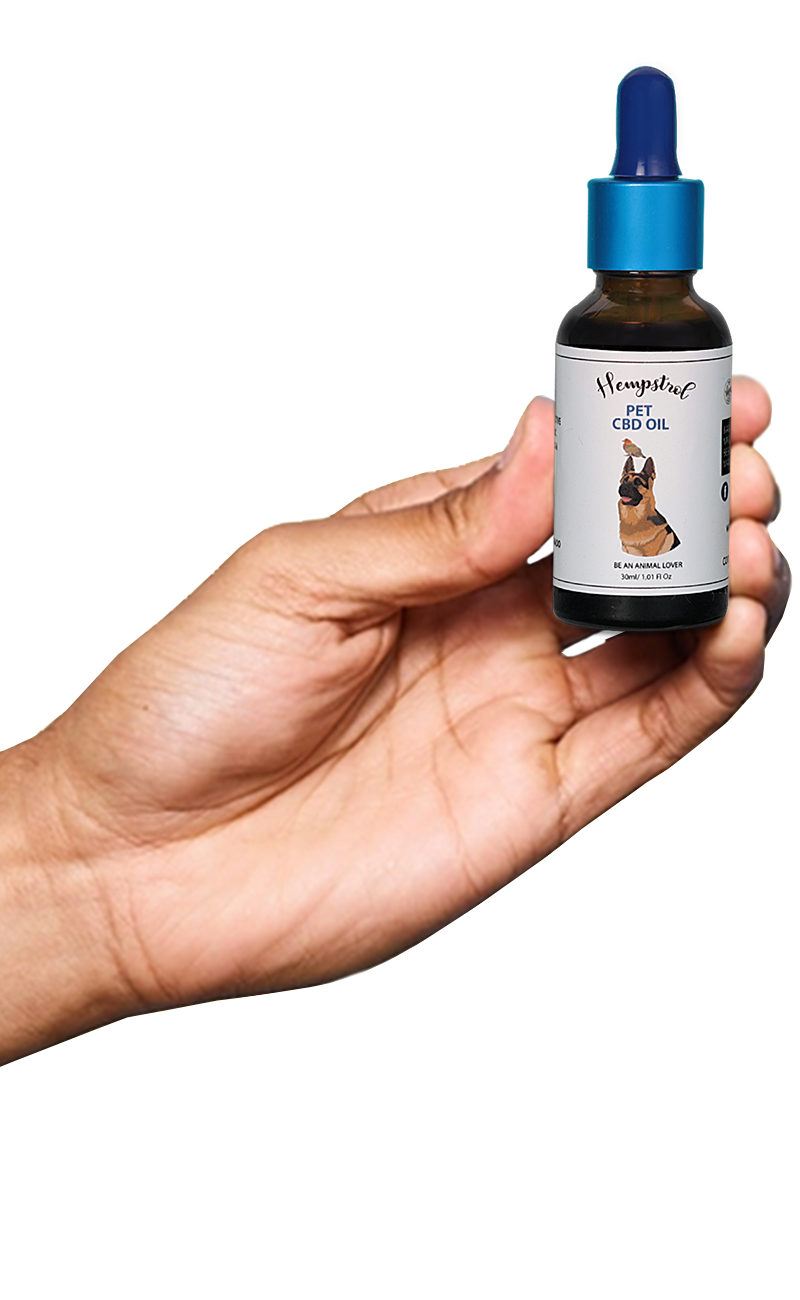 Hempstrol's Premium CBD Oil for Pets is the ultimate health supplement for our furry friends!
The CBD Oil for dogs in India can be used not just for Dogs but for Cats, Household Birds, and all Domesticated Animals of all sizes and ages. Hempstrol's full Spectrum Extract is made by our finest oil extractors who have experience of more than 25 years! Our industry-leading extracts contain absolutely no additives and the only ingredient in it is therapeutic hemp. Hempstrol's CBD Oil for Pets can be mixed in your Pet Food or just add drops on pet treats and serve. You can also directly give CBD oil to your dogs using a dropper according to the dosage prescribed by your vet. In case you want to self-administer Cannabidiol Oil in India then please refer to the Dosage Chart for Pets as per their body weight.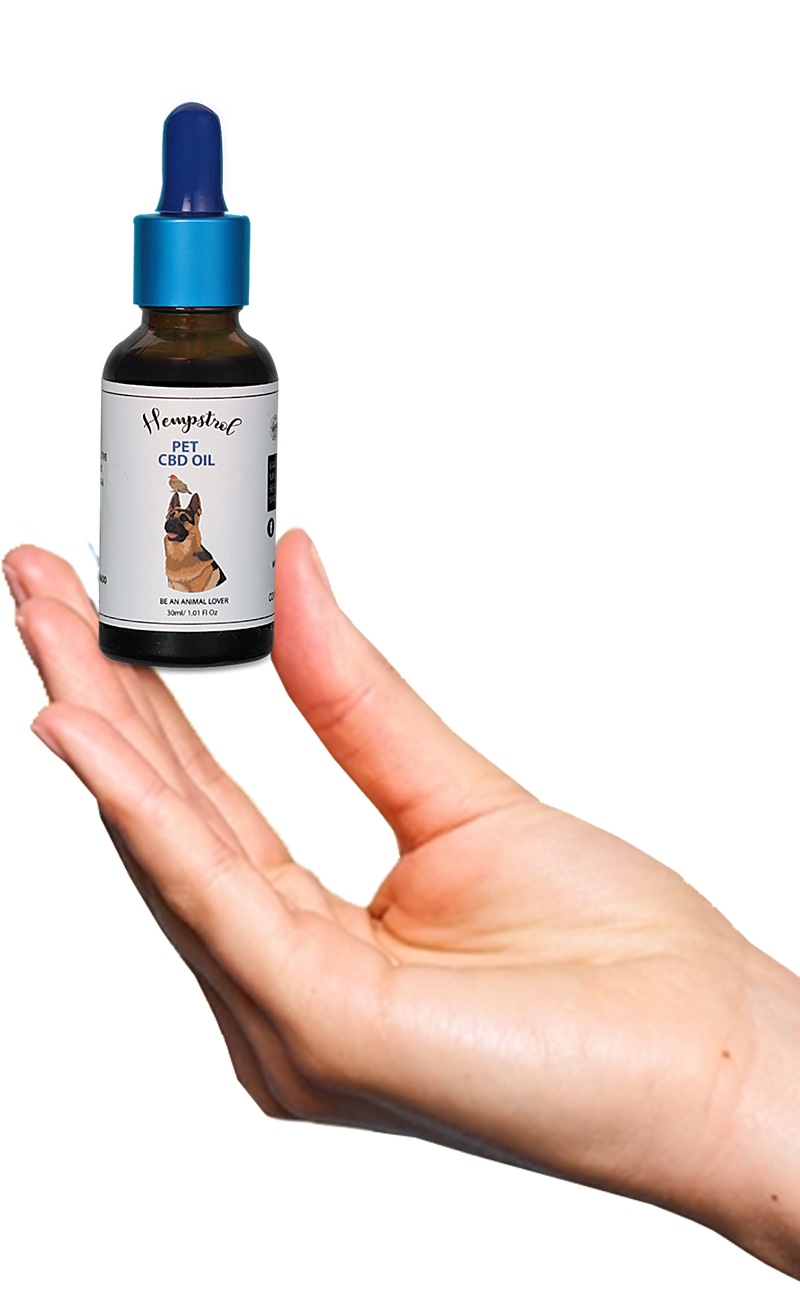 Can I use regular CBD for dogs?
No, you should not use the regular CBD Oil for Dogs in India. There are various brands in the market currently that claim their CBD Oil is Pet-friendly and can be administered to your pets without any safe effects however, one should refrain from taking such claims at face value. Here is why you should only give CBD Oil meant for Pets to your dog and cats:

1) The bloodstream in dogs and humans behave differently
2) The organs of a dog and a human are not the same kind, they function differently for specific purposes
3) The dosage that a dog requires is different from humans.
The structure of the endocannabinoid system is not the same as in humans and CB1 and CB2 receptors work differently in dogs as well as humans. Thus always get CBD for Pets that has been specially formulated for your dogs and cats that helps in better treatment and recovery.
How to administer CBD Oil to your Pet?
There are various CBD oil for dogs India products available in the market at the moment. CBD oil for pets products can be incorporated into your pet's life easily by taking a medical consultation with our vet on board that will not only guide but also advise you on how much MG you should give to your pets. The best way to give CBD to your pets is orally by putting recommended drops right in their mouth, or you can put drops as suggested by the vet in your pet's food or water, or as a treat. You can refer to the dosage sheet to calculate standard doses for your dog, cat, horses, rabbits or an other pet.
Are Hempstrol's Pet Products the best CBD oil for dogs in India?
Hempstrol sells various CBD-based products and one of our ranges is Pet CBD., Under this, we have different variants of products for pets such as Pet CBD oils and Topical Skin & Pain management pet CBD balm 1000 MG. Hempstrol Pet CBD Oil can be used to treat various mental and physical ailments your dog might be suffering from. Our CBD Oil for Dogs is essentially a Full Spectrum CBD Oil which has a top potency of CBD followed by CBG, CBC, and CBN. All these cannabinoids work together efficiently and provide faster relief to your dog.
Is CBD Oil for dogs the same as CBD Oil for Humans?
Just like Pet's treats, grooming products, and play toys for your dogs are different, your dog's medication and health supplements also need to be different. The formulation of Hempstrol's CBD Oil for Pets differs in terms of its potency and plant selection which has been a credible decision of Hempstrol's Research and Development team in Denver, Colorado. It is always advised to select your CBD for Dogs product separate from what it is formulated for humans. At Hempstrol, you can speak to our Veterinary specialist to prescribe CBD medication to your pets and how you should administer it.
Ultimate CBD Oil for Pets 500 MG Buying Guide