CBD Oil for Pets 750 MG
Super Potency
750 Mg
C02 Extraction
100% Non Psychoactive
Raw and Organic
No Preservative and Additives
Bottle Size : 15 ml Amber Glass Bottle
Packaging : Biodegradable Jute Potli Bags

Ships in
# Time required to prepare order for shipment is one day.

Average delivery time
# Average time required for delivery after shipment is usually 4-5 working days.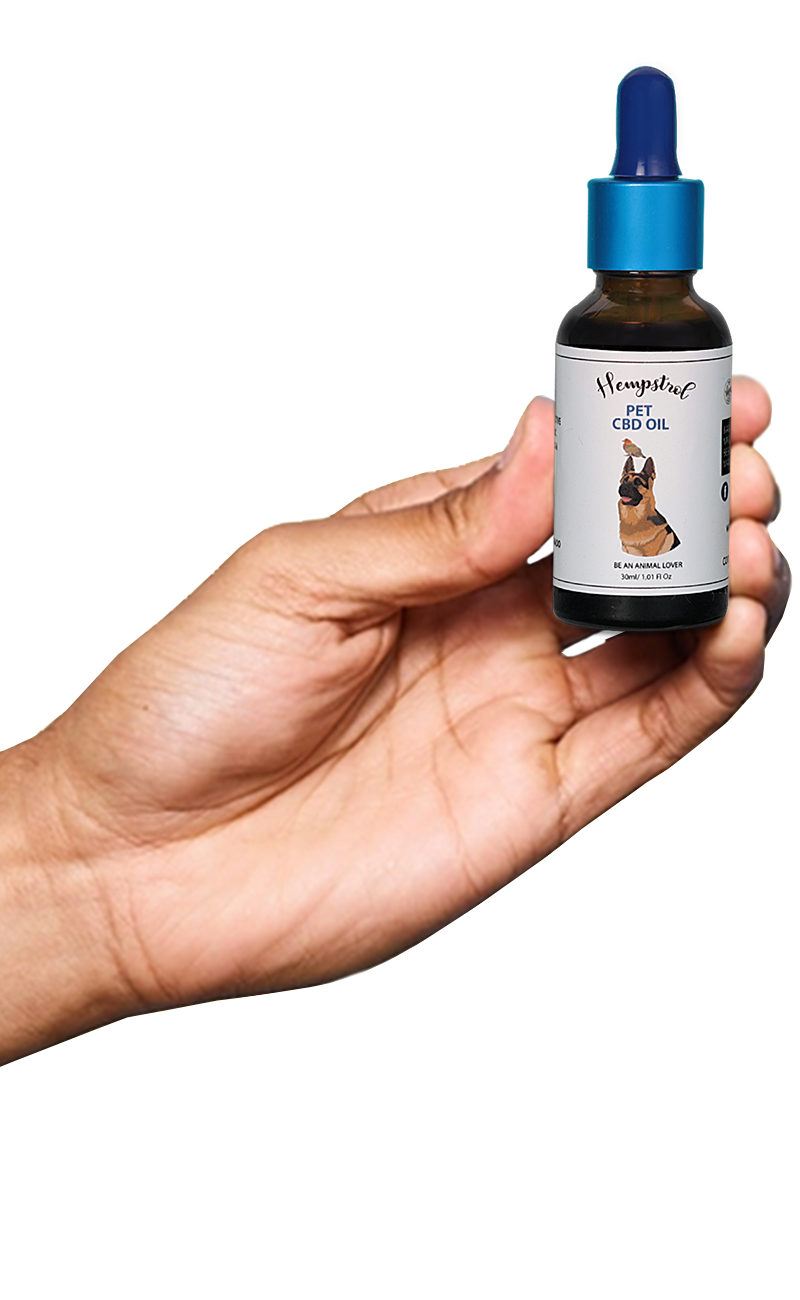 Hempstrol's Premium CBD Oil for pets is the ultimate health supplement for our furry friends in treating their anxiety and knee pain! The Hempstrol Pet CBD Oil can be used for Dogs, Cats, Household Birds, and all Domesticated Animals of all sizes and ages. This Full Spectrum Extract is made by our finest oil extractors who have experience of more than 25 years! Our industry-leading extracts contain no additives and the only ingredient in our Pet CBD oil is hemp which has therapeutic properties. You can order Pet CBD oil 750 MG from our Online Store and get it delivered to your doorstep. Our Pet CBD Oil is made with 100% organic hemp and only selected hemp plant extract has been chosen by our experts. Our Pet CBD Oil has a concentration of approximately 50 mg of CBD per milliliter of oil. Please have a look at the Certificate of Analysis here.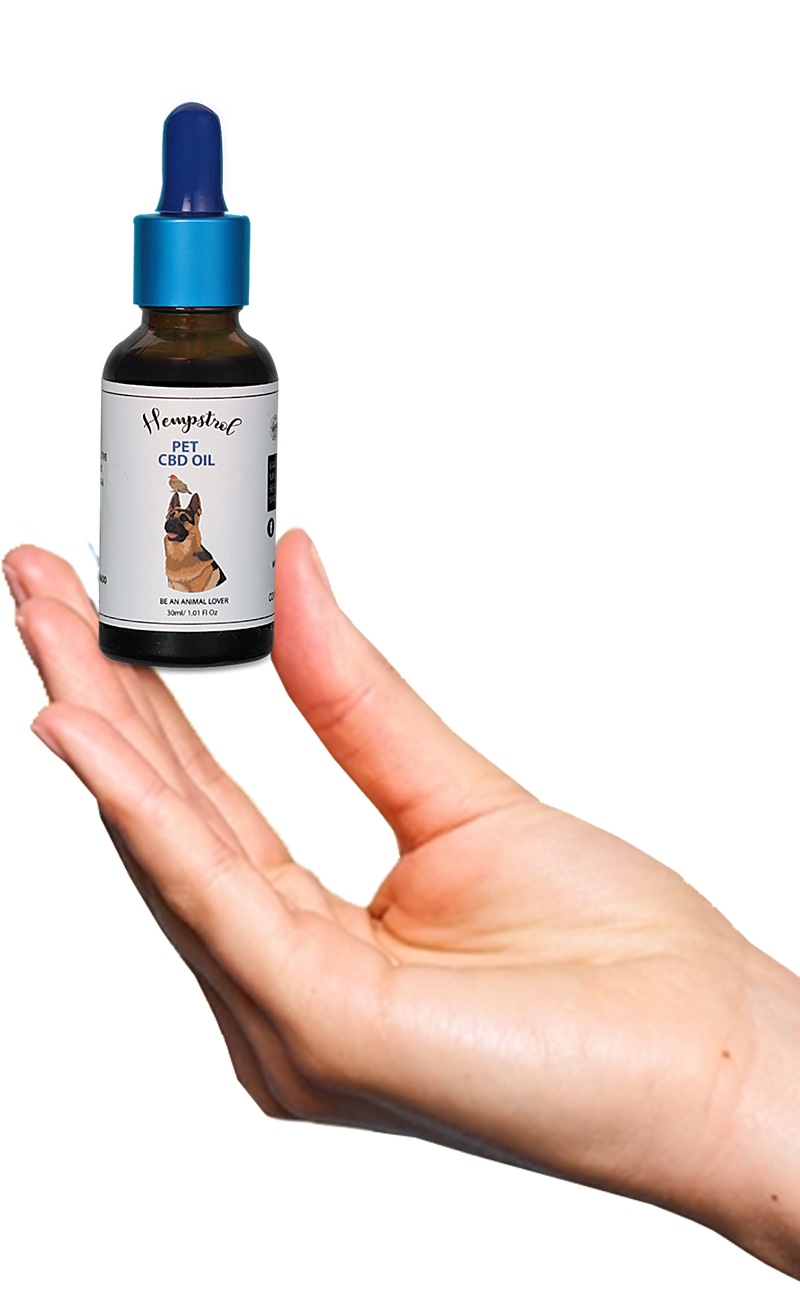 Directions for Use
Pet CBD Oil can be mixed in your Pet Food or just add recommended (by your vet) drops on pet treats and serve. You can also directly feed your pet our Pet CBD oil using a dropper. To know the number of dosages you should be giving to your pets, Refer to the Dosage Chart for Pets as per their body weight.

Refer to the Dosage Chart for Pets as per their body weight.
Does CBD Oil for Dogs treat anxiety disorders?
Yes, just like humans, our pets suffer from anxiety disorders too which if not treated might lead to more serious complications in them. The cause of anxiety depends on various reasons like separation, loud noises from the bursting of firecrackers, etc. Anxiety in our pets can be diagnosed only through a medical consultation with a vet. Keeping your pet calm during their anxious time is a tedious task and requires the pet parent to pay special attention to it. There have been many positive outcomes of using CBD for dogs and pet parents have written testimonials to us on how our best CBD oil for dogs has turned out to be beneficial for them.
Things to Ask before selecting CBD for Pets
Determining which CBD Oil for Pets in India is the best purchase on online platforms can be a tough task. Before selecting a CBD Oil for Pets, ask these questions:

Are the CBD products for Pets tested in a third-party lab?
Has it been manufactured in a GMP-compliant unit?
Is the product marketed as both humans and pets can use it?
Is the company registered with any drug department in India and can it show documents to prove this?
Is it either Full Spectrum, Broad Spectrum or Isolate?
Is it Hemp or Marijuana-derived?

Remember, not all CBD products for Pets are the same. A Full Spectrum best CBD Oil for Dogs is the best option to go for as its effects are much quicker and would bring quick relief to your pet.
Is CBD oil safe for dogs
According to a Critical Review Report posted by the World Health Organization, it states that CBD Oil in its purest state is 100% safe and has tremendous benefits for dogs and humans. According to WHO, always select a Pet CBD Oil which is Full Spectrum and contains THC below 0.3%, and is derived from Industrial Hemp. If you buy CBD Oil made from Marijuana that has high contents of THC, it might lead to Cannabis Poisoning which would be dangerous for your dog. Always go for the best CBD Oil For Dogs that is lab tested and is 100% organic. Hempstrol is the only Hemp Company in India that is registered with the medical and health department of Rajasthan (Drug Control Organisation) and offers medical consultation with the vet on board.
How do I determine the right CBD dosage for my pet?
Determining the correct dosage of CBD for your pet depends on their weight and the disease they might be suffering from. Diagnosis of the disease should be the first step before going for CBD Oil. CBD can also be given for general well-being. In this scenario refer to our dosage sheet which would exactly tell you the dosage of Pet CBD according to the weight. In case you're still confused we would want you to not worry as our Cannabinoid Pharmacist will help you out. For pets that are suffering from a disease, we suggest you book a medical consultation with our vet on board. He would write you a prescription and will indicate the number of CBD drops required for your pet for their better recovery.
Ultimate CBD Oil for Pets 750 MG Buying Guide
You may also like