Hair Root Health Oil
Source: Indo Himalayas
Carrier Oil: Hemp Seed Oil
Essential Oil: Rosemary Oil
Bottle Size: 30 ml Amber Glass Bottle
Packaging: Biodegradable Jute Potli Bags
This Oil Is Non-Sticky and is 100% Vegan
Not For Consumption, Only Physical Application

Ships in
# Time required to prepare order for shipment is one day.

Average delivery time
# Average time required for delivery after shipment is usually 4-5 working days.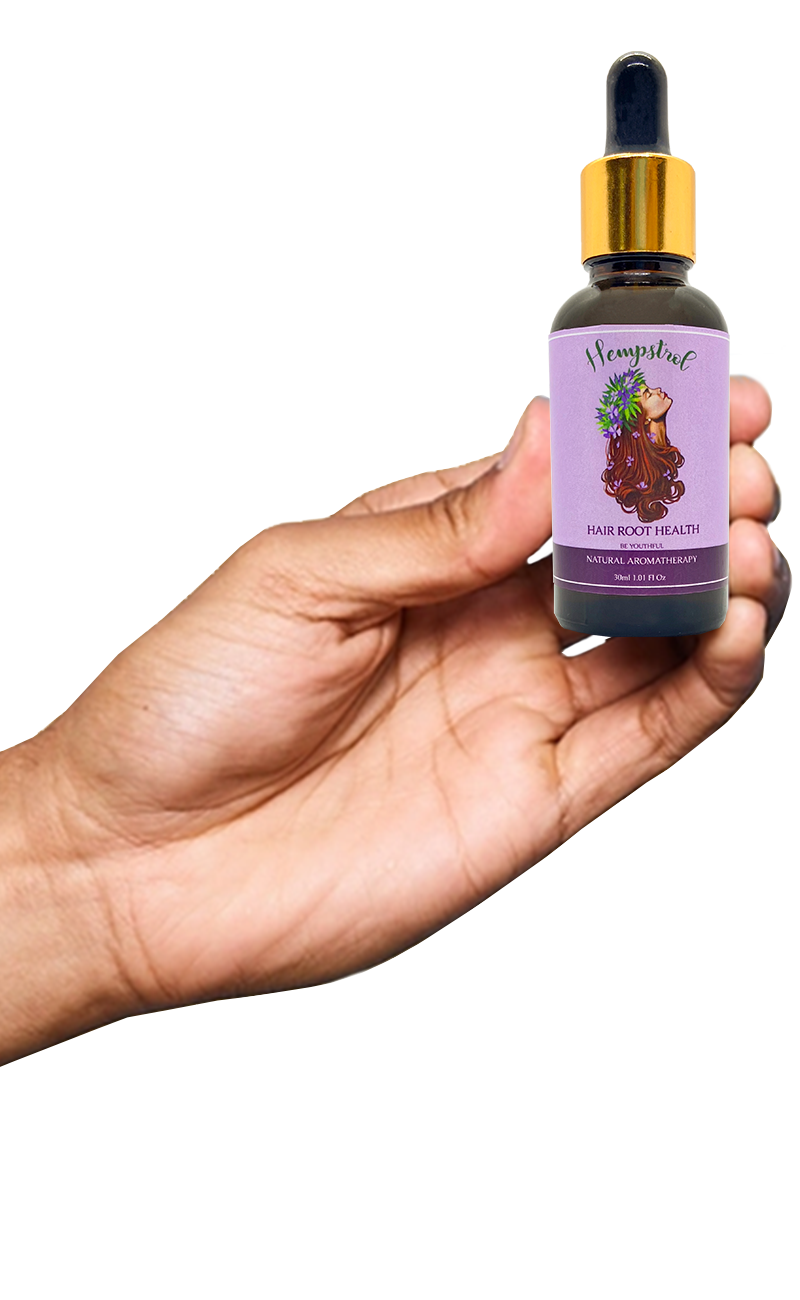 Most people know hemp for its calming, relaxing benefits but that's not all it's good for. Hemp oil extract (which contains beneficial cannabinoids) and hemp seed oil (which is cold-pressed from hemp seeds and does not contain cannabinoids) can deliver amazing benefits to your hair and repair your scalp. Altogether, will help you achieve healthier hair. To make our hair oil more effective and potent, we have added Rosemary extract. It has been observed when hair root health oil is applied topically on the scalp, it will moisturise your hair, ensure the hemp seed oil for Healthy Hair helps in stimulating hair growth to give you thicker density, and, strengthen hair to ensure low hair fall. Whether you have dry tresses, an itchy or flaky scalp, or just want to make your hair grow as fast as possible, Hempstrol Hair root health oil has got you covered.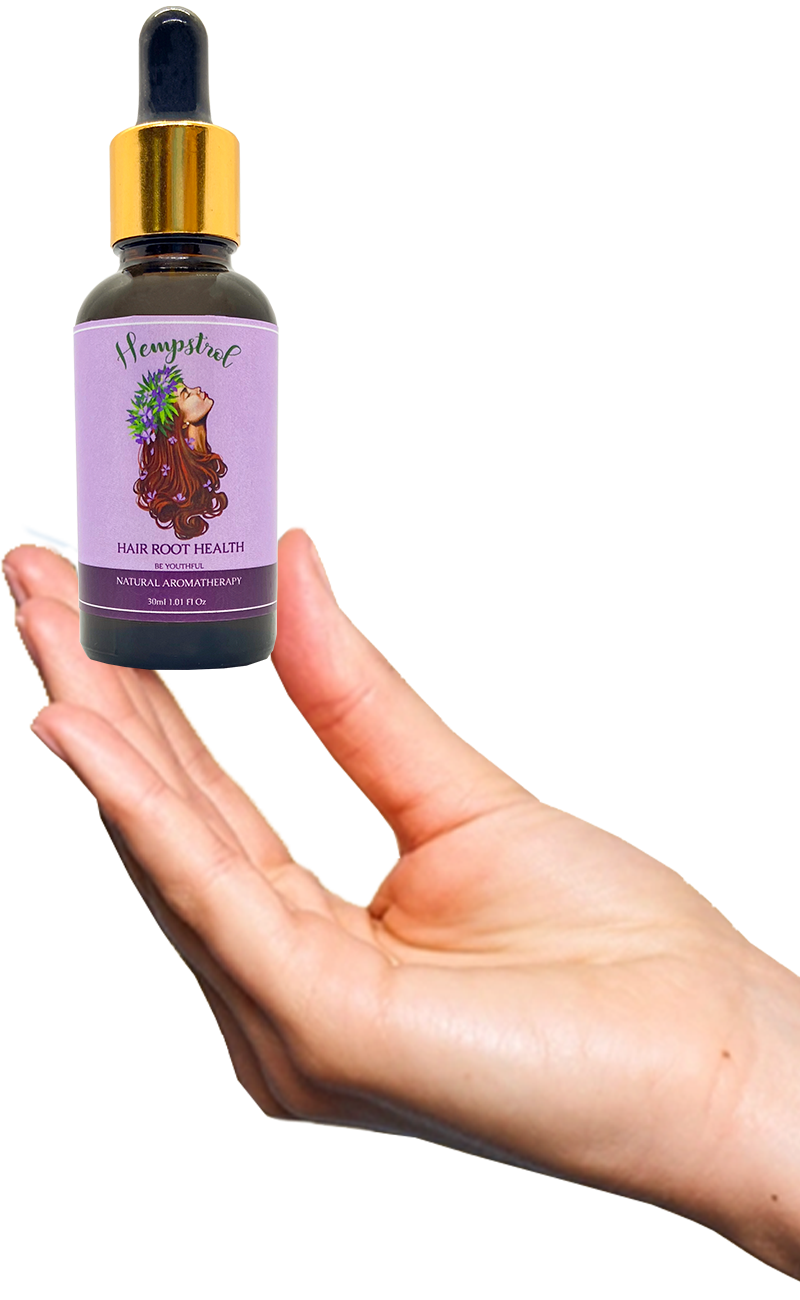 What are its main ingredients?
The major ingredients in Hempstrol Hair root health oil are high-quality and authentic CBD: Hemp seed oil and Rosemary oil. We will briefly discuss how the blend of these two potent oils and CBD oil for hair will give you healthy hair and repair the damage your hair has gone through:
Hemp Seed Oil: Hemp seed oil has plenty of Omega-3 and omega-6 fatty acids, in what some experts call the perfect ratio, which is considered good for your hair in helping to increase the hair density. Hemp seed also contains antioxidants such as carotene, phytosterols, Vitamin E, etc. As per the research, a combination of omega-3, omega-6 fatty acids in combination with antioxidants prevents hair loss. Regular use of CBD oil for hair oil which has hemp seed oil as its major ingredient can even relieve the symptoms of itchiness and dry skin in atopic dermatitis.
What major benefits could I see by using this oil?
Some of the ways in which our solution of high-quality and authentic Hemp Seed Oil could benefit your hair: Hemp Seed Oil for Hair Growth helps to maintain the thickness of the hair shaft (the part you can see above the scalp) Supports hair density by moisturising your hair to ensure it looks shiny and health Increasing the hair density to give you a fuller head of hair Reviving damaged hair Rosemary Oil: One of its key components is carnosic acid which has been shown to heal nerve damage and restore tissue in the scalp which helps to circulate blood supply to the hair follicles. Due to having anti-inflammatory properties, CBD Oil for Hair Growth improves cellular generation which helps in hair growth and hair thickness.
How to use Hempstrol Hair root health oil for better results?
Dry, coarse, or curly hair: Use the oil as a daily leave-in moisturiser. Apply a small amount of this oil through the hair mid-shaft (the middle of your strands) to the ends to ensure it gets strengthened and moisturised.

Straight or Fine hair: Use our product as a hot oil treatment

Dry or oil scalp: Apply this directly to the scalp overnight and then shampoo in the morning. Amino acids in hemp seed oil for hair can ensure to balance the scalp and regulate the production of sebum.
Can it help with my dandruff?
Yes. One of the ingredients in this hair oil is rosemary oil which has anti-bacterial and anti-fungal properties which prevent the buildup of bacteria and can eventually help with your dandruff. you will be able to see improvement not just in hair regrowth but in the overall texture. Hair root oil blend is rich in omega 3, 6, and 9 fatty acids, CBD Oil for Healthy Hair growth. It is proven if one massages their scalp with hair root oil, they will notice thick hair due to its ability to deliver oxygen and nutrients to your scalp.
Is CBD Oil and Hemp Seed Oil the same?
There is a lot of confusion around the names of these products. Hemp oil is also referred to as CBD oil but remember hemp seed oil and hemp oil are two different products. CBD oil uses the stalks, leaves, and flowers of the hemp plant whereas hemp seed oil come from the seeds of the Cannabis sativa plant which doesn't contain CBD but have rich nutrients, fatty acids, There is another misconception that people get high if applied CBD Hemp oil on the scalp. You will not get high using hemp seed oil for hair as it doesn't contain THC, components associated with giving high effects, and little to no CBD. If you are looking to buy Organic CBD Hair Oil, your search ends here on Hempstrol as here you will get assurance that you are buying a quality product.