Skin & Pain Management CBD Balm 500 MG
Source: Colorado, U.S.A
Super Potency
500 Mg
C02 Extraction
100% Non-Psychoactive
Raw and Organic
No Preservative and Additives
Bottle Size: 75 ml Tin Balm Carrier
Packaging: Biodegradable Jute Potli Bags

Ships in
# Time required to prepare order for shipment is one day.

Average delivery time
# Average time required for delivery after shipment is usually 4-5 working days.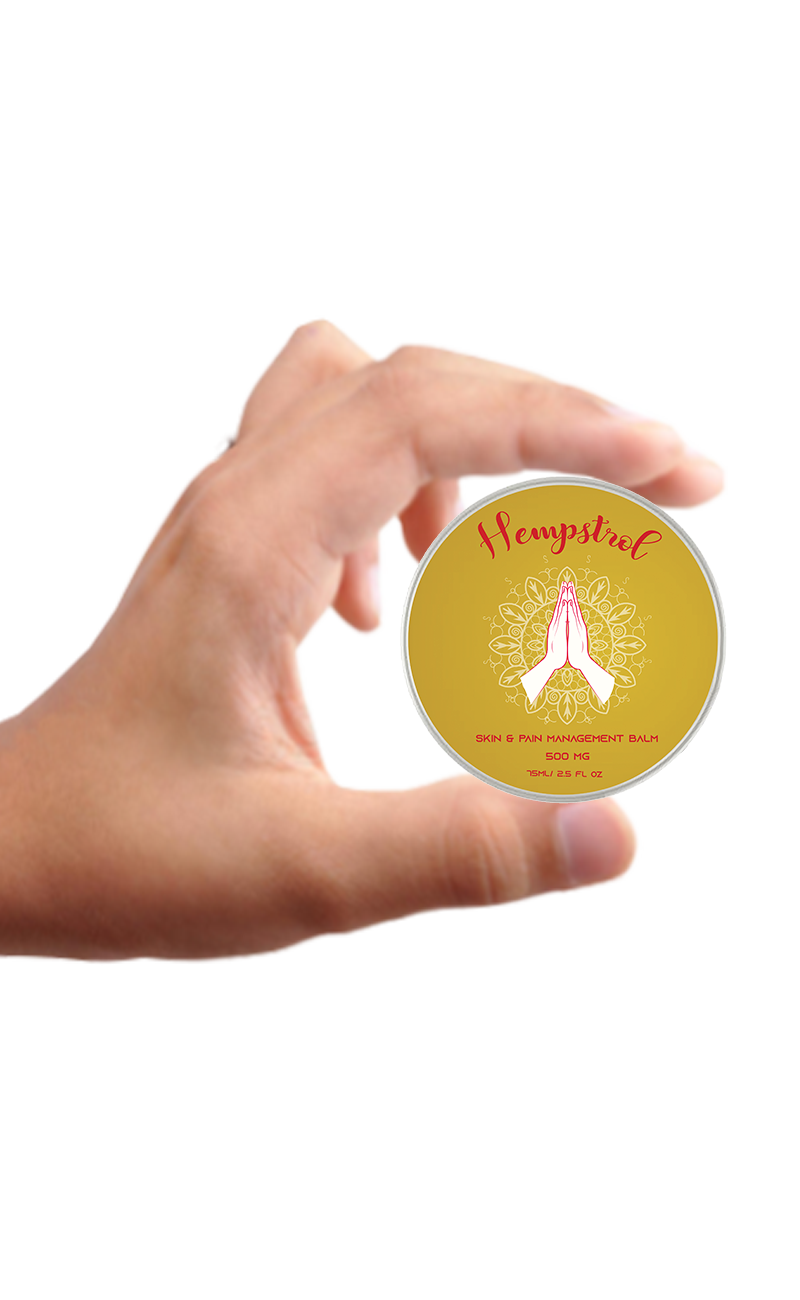 If you are dealing with serious body pain and need a fast relief and safe product, you may want to try Hempstrol's CBD balm. Made in Colorado, USA, Hempstrol's Premium Skin and Pain Management Balm have been developed with extensive research-backed by proven ingredients for physical ailments. Many other treatment options for dealing with body pain and joint pain are available, but most people choose a non-steroidal alternative such as CBD Pain Relief Balm. Those who already use CBD oil India know that it has many benefits for the body when used with medical supervision. This CBD Balm contains 500 MG of synergistic cannabinol potency to help your anxiety to calm down and heal body ache.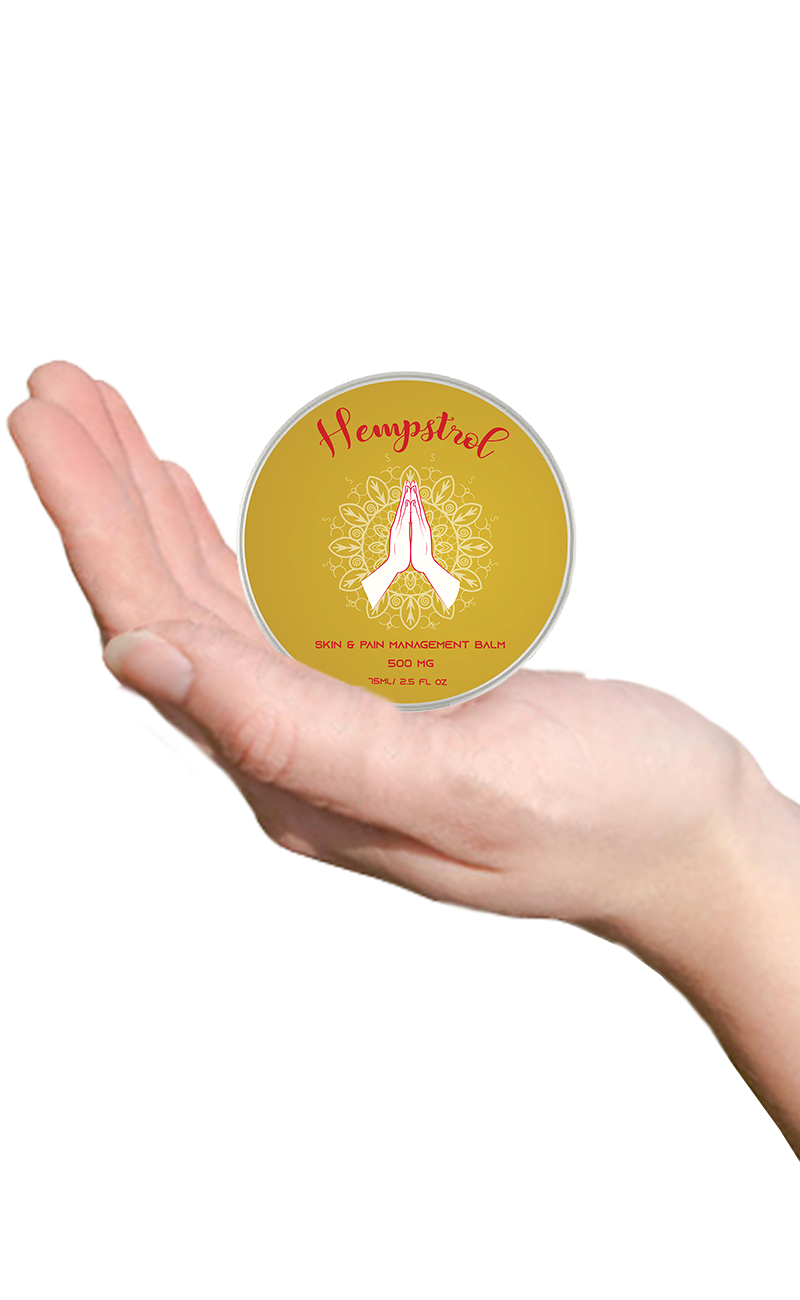 Why should you choose CBD balm from Hempstrol?
As CBD is gaining popularity with worldwide research on CBD oil India claiming to help people with anxiety, joint pain, etc. various brands are emerging in the market. However, picking the right CBD-based product from the right brand is of grave importance as your choice will have a direct impact on your health.
If you are looking to buy CBD oil or buy CBD Balm online to get relief from pain be it due to athletic injury or lifestyle. Under our CBD Topical product range, we offer Full Spectrum CBD Pain Relief Balm in different MG's. Apart from making our balms free from preservatives and additives, we also provide our customers with a detailed Certificate of Analysis. We believe in transparency; our customers should know what ingredients have been put in our formulation before buying CBD balm or buy CBD oil in India. Hence, our prospective customers can access all of our ingredients lists either from our website or from the product label.
Is CBD balm good for skin?
Having good skin is a process and our CBD balm and our other CBD-based products such as CBD Creams, CBD Sunscreen, CBD Anti-Ageing Cream can easily become a part of your skincare routine. All of our products are organic, chemical-free, and cruelty-free. CBD balm is supposed to be used topically on the infected area and with continued usage, one can see the following benefits: Reduces the sebum quantity produced by your skin and also helps in reducing inflammation. People having dry facial skin can also use our CBD balm to get relief from itchy and flaky skin. Acne or pimple spots on your face can be painful. Pimples develop as a result of clogged pores on the skin. CBD balm can help in removing pimples and blackheads from your face due to having therapeutic properties.
What factors to consider before buying CBD balm?
We encourage our prospective customers to widely research information on CBD available online or from the company they are buying a CBD balm from.

Proof of Third Party testing: Ensure that the company you are buying CBD Balm provides proof of third-party testing by a certified lab. Our CBD Balms comes with a detailed cannabinoid profile test to provide you all the details about the potency of our CBD products.
The THC content in the balm: Meant for topical application, the best CBD balms doesn't contain no more than 0.3 % THC or Tetrahydrocannabinol content and this would be given in the certificate of analysis.
Organic and Chemical Free: Most people are seeking organic solutions whether it is for pain relief or skincare.
Hempstrol's CBD Balms are 100% Organic, Chemical-free, and Vegan. The balm is free of metals, pesticides, and additives.
How will using CBD Balm will benefit me?
CBD comes in different forms such as oil, balm, soft gels, vaporizers, etc. When you apply CBD balm to the affected area, it interacts with your endocannabinoid system. Endocannabinoid receptors are found throughout the body, including skin cells, skin nerve fibers, hair follicles, and oil and sweat glands. The presence of cannabinoid receptors in the skin allows topical CBD products to seep into the skin and heal the pain. There are innumerable benefits of using CBD balm, and a few of them are as follows: Helps in getting rid of any form of pain in different parts of your body: shoulder, back, arms, legs, and even arthritis pains in the joints. Helps in treating skin conditions such as psoriasis, Alopecia, Skin burns, Dryness, itchiness, or chapped areas. It reduces inflammation. According to the American Academy of Dermatology, topical CBD products such as balms and lotions show potential for reducing inflammation that can contribute to acne, eczema, and psoriasis.
How to use CBD balm correctly?
Best CBD balms are often thick, almost solid, and waxy, and meant to be applied directly to a localized point of soreness or pain. Take some part of the balm in your palm, rub it between your hands to ensure it comes under room temperature, and after that, apply CBD Pain Relief Balm directly to the soreness to get relief from pain. They can even become a relaxing part of your bedtime routine. We do not advise using our CBD balm on your face and keep it away from the eyes.
What does CBD balm contain?
The composition of CBD balm is free from additives and fillers. The key ingredients in CBD are: Peppermint Extract, 500 MG Full Spectrum Cannabinoids, Omega 3:6 Protein, Magnesium, Organic Colorado Beeswax, African Shea Butter, Vitamin C, D & E. The authenticity of the oil can be determined by the source of plants, the extraction process, and third-party verified lab reports. Our CBD balms contain full-spectrum cannabinoids and terpenes, ensuring top-notch quality. Hempstrol's CBD balm can be used to seek various benefits, including relief from pain and skin problems as well. With a wide range of products available on our website, we deliver all over the country and in over 30 countries globally.
Where to Store the product?
Store in a refrigerator or cool dark place. Due to its super greasy texture, it is advised to keep it in a refrigerator. The super greasy texture has been developed to ensure it can easily absorb into the skin and work its magic.
Disclaimer
Due to FDA regulations, no hemp extract manufacturer is allowed to make health claims about CBD, CBG, CBC, and CBN products. We encourage all our customers to research the widely available information online regarding the compounds found in therapeutic hemp. Hempstrol has some of the best CBD balms in India. Regardless of where you buy your Cannabinoids products from, it is important to make sure that the company is GMP compliant and has up-to-date third-party lab results for all its products. Our manufacturing unit is one of the few companies to be GMP certified.
Ultimate Skin & Pain Management CBD Balm 500 MG Buying Guide