Skin & Pain Management CBD Balm 1500 MG
Source: Colorado, U.S.A
Super Potency
1500 MG
C02 Extraction
100% Non-Psychoactive
Raw and Organic
No Preservative and Additives
Bottle Size: 250 ml Glass Balm Jar
Packaging: Biodegradable Jute Potli Bags

Ships in
# Time required to prepare order for shipment is one day.

Average delivery time
# Average time required for delivery after shipment is usually 4-5 working days.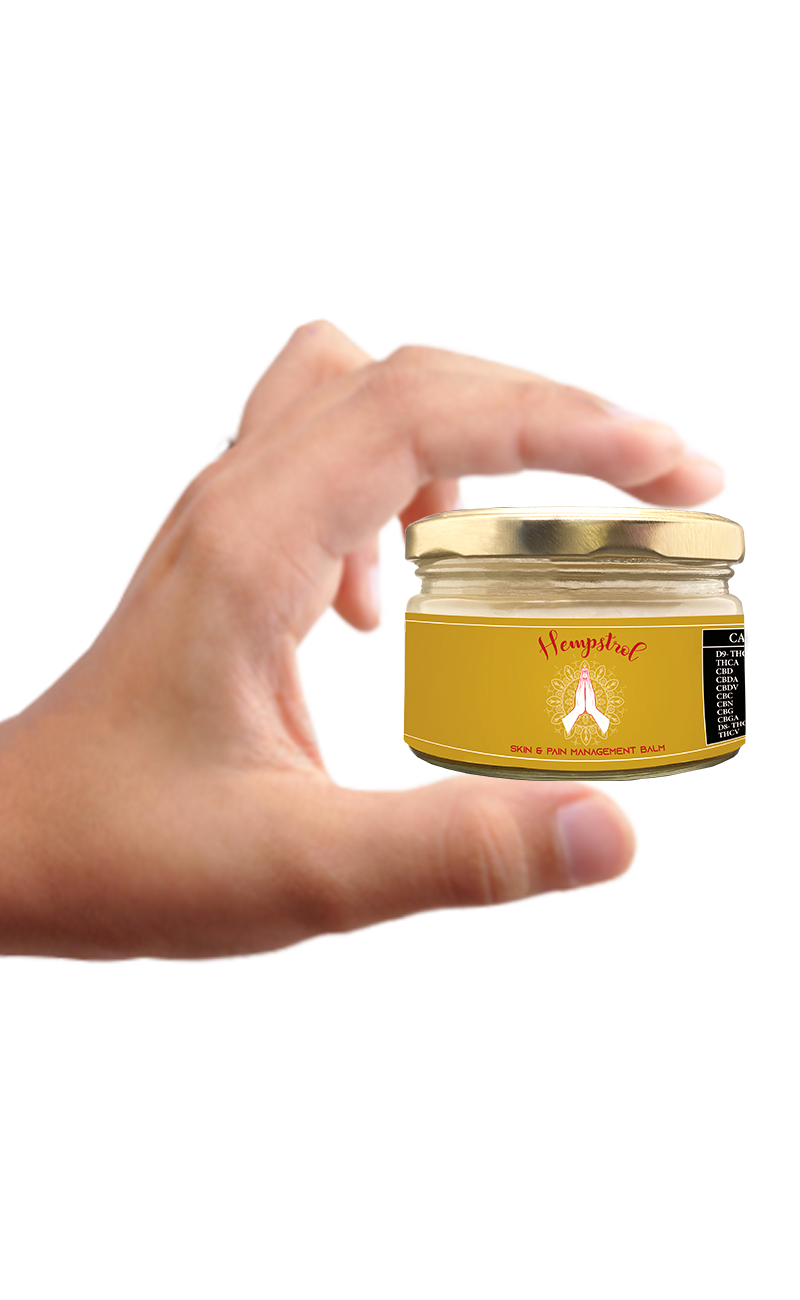 Made in Colorado, USA, Hempstrol's Premium Skin and Pain Management Balm has been developed with strong research and proven ingredients for physical ailments. This CBD Balm contains 1500 MG of synergistic cannabinol potency for your complete healing. This Full Spectrum Balm is made by our finest hemp extractors who have an experience of more than 25 years! Our industry-leading extracts contain absolutely no additives and the only ingredient is therapeutic hemp!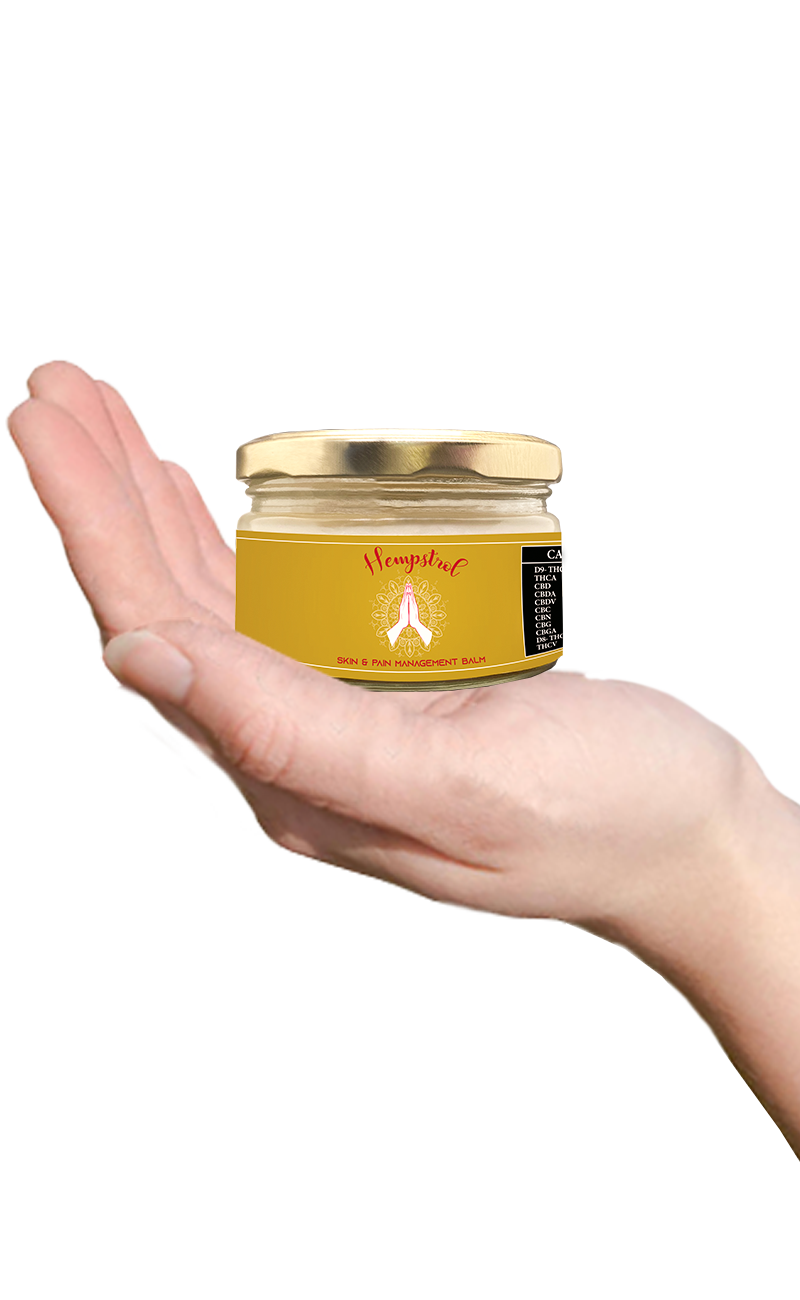 What is CBD balm?
CBD balms are often thick, almost solid, and waxy due to having fatty oils and waxes as base ingredients. To ensure CBD Pain Relief Balm works, it first needs to come under room temperature by taking a scoop out of the jar and rubbing your palm with it. As soon as it melts, apply directly to a specific area to get relief from pain. Studies suggest that the skin absorbency of CBD balm is pretty weak if compared with mucous membranes. Hence, to get CBD oil benefits it's best to select one with a high level of CBD like Hempstrol's Premium Skin and Pain Management Balm of 1500 mg and apply it liberally to ensure it seeps into the skin easily.
Is CBD Balm good for Nerve Pain?
CBD balms or creams work best for people suffering from nerve pain. People with nerve damage may experience pain, numbness, or prickling sensations in certain parts of their bodies. In the 2020 study, a group of scientists studied the impact of topical CBD oil impact on pain. It was found that people having nerve pain reported lower levels of pain and noticed a drop in sharp, cold, and itchy feelings of pain. Hempstrol is the best place to consider for anyone looking to buy CBD oil balm for pain relief. One can book a medical consultation with one of our doctors on board.
Does CBD balm work on Spondylitis?
Yes. Ankylosing spondylitis is a condition that involves inflammation of the spine. It can lead to inflammation of joints, but surprisingly it affects young people more. In addition, it is more common in men than in women. Research shows that CBD has various anti-inflammatory properties which when interacted with our body's endocannabinoid system provide symptomatic relief. Getting a permanent cure depends on the severity of the disease and we advise you to speak to our expert on our Medical Panel.
How does CBD Balm work for you?
Cannabidiol India is a new product category and Hempstrol is leading it by manufacturing top-quality CBD Balm. All of our products at Hempstrol are 100% Vegan and made from organic ingredients. Our CBD Balm In India is Full Spectrum and is available in 500MG, 1000MG, and 1500MG. To ensure the balm works effectively on your skin, clean the affected part of your body with soap and water solution. Once the area dries, you have to use your fingers to apply the balm and massage for a bit. The African Beeswax and Shea butter infused with Full Spectrum CBD will melt into your skin. You can buy CBD oil in India along with CBD balm from Hempstrol for better results.
How to use CBD balm?
Apply directly on the affected part of your body and under no circumstances it shouldn't be applied on your face and around the eyes area.You can use our CBD balm for a variety of uses given below:

Pain relief: Our CBD balm contains peppermint extract and Vitamin C, D, E that helps to deliver even more therapeutic effects to the applied area and can provide relief from joint pain, nerve pain, etc.

Skin conditions: In addition to helping you with joint pain, applying CBD balm can help you deal with certain skin conditions such as reducing inflammation that is the root cause of acne, eczema, etc.

People suffering from Arthritis related pain can significantly see the difference in their joint swelling being reduced and itchy feeling of pain associated with Arthritis.
What does it contain?
At Hempstrol, we have made extra efforts to ensure our formulation for CBD balm is organic and free from chemicals. We have added PepperMint Extract for calming properties, 1500 MG Full Spectrum Cannabinoids as higher CBD content in balm works best in giving you relief from pain, Omega 3:6 Protein, Magnesium, Organic Colorado Beeswax African Shea Butter, Vitamin C, D & E.
How to store it?
It is advisable to store CBD balm in a Refrigerator or a dark cool place. Due to its super greasy texture and well-mixed ingredients, it is advised to keep it in a refrigerator and only take it out when required. The super greasy texture has been developed keeping special attention on the absorption aspect of the skin.
Disclaimer
Due to FDA regulations, no hemp extract manufacturer is allowed to make health claims about CBD, CBG, CBC, and CBN products. We encourage all our customers to research the widely available information online regarding the compounds found in therapeutic hemp.