Hemp Seed Oil: How to Use It Effectively?
What if there was something that was so adaptable that you could have it orally and topically to address chronic skin issues, heart health, brain health, and digestive health? Or apply it topically to encourage collagen formation, smooth skin, and acne relief? We're talking about Hemp Seed Oil, which, if you are not living under the shed, is found in so many skincare products easily.
While the benefits of hemp seed oil for human consumption are the main subject of this article, Hemp seed oil for dogs and cats could also be given to treat common skin issues.
So, What's The Difference Between Hemp Seed Oil and CBD Oil?
Hempstro's hemp seed oil and CBD oil are both made from industrial hemp, which is a variety of the Cannabis sativa plant and is grown sustainably. Tetrahydrocannabinol (THC), the main psychoactive substance in cannabis that gives users a high, is present in hemp in amounts of less than 0.3 percent. This is within permissible limits and is legal to consume, and won't attract any legal penalty from law enforcement.
CBD oil is made through an extraction process from the cannabis plant's leaves and flowers, which have high concentrations of the compound known as CBD and are used for therapeutic and medical purposes but don't make you high. Although heavily regulated and available only from licensed manufacturers, CBD oil is legal in India for those who don't know.
Hemp seed oil for dogs and Hemp Seed Oil in general, in comparison, is produced by cold pressing the seeds of the plant and not the flower and leaves for us to get the most diverse and nutritionally strong oils available. Therefore, Hemp Seed Oil typically contains no THC or CBD (cannabidiol) at all but still possesses a host of health benefits. CBD oil is well-known for being nutrient-rich for its general health benefits and constitutes healthy fatty acids, carbohydrates, and fats.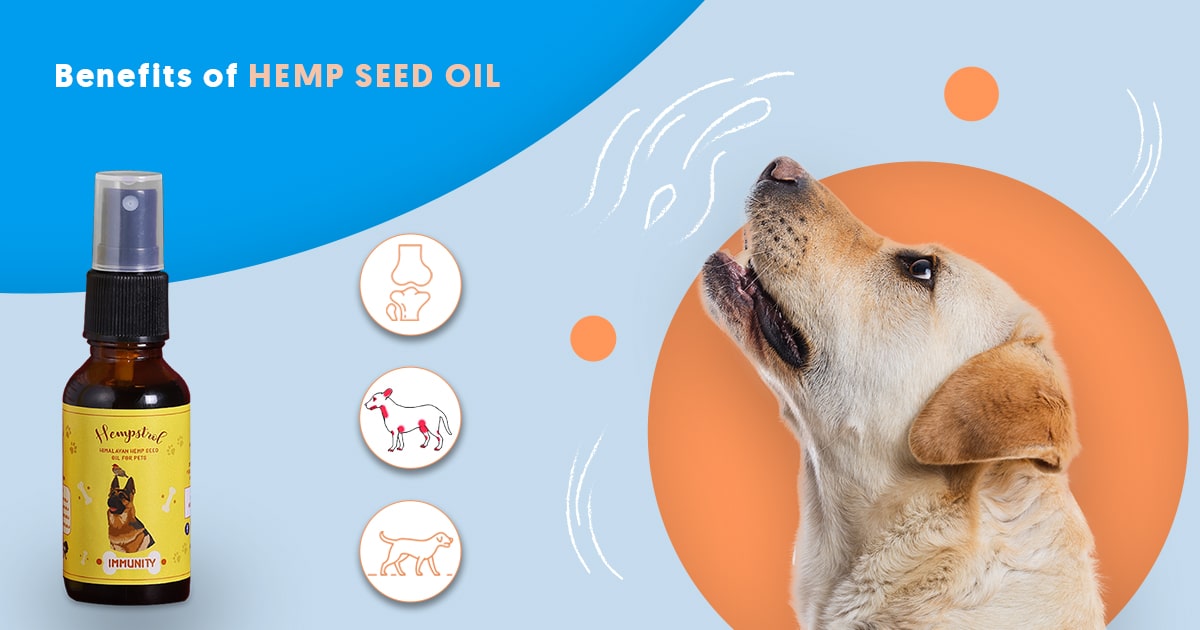 Benefits of Hemp seed oil
There are a number of skincare benefits that you can get from using hemp seed oil, either topically or by consuming it.
Treats Atopic Dermatitis: It can effectively treat skin conditions like atopic dermatitis due to being rich in omega-6 and omega-3 fatty acids.
Anti-aging properties: It can help you reduce fine lines and wrinkles as well as prevent signs of aging from developing. The linoleic and oleic acids present in hemp oil can't be produced by the body but play a significant role in anti-aging.
Moisturizes and soothes inflammation: One of the omega-6 fatty acids that hemp oil contains is GLA (Gamma-linolenic acid) which acts as a powerful anti-inflammatory while simultaneously new cell generation. This helps to calm inflammation and irritation on the skin, including acne.
How to use Hemp seed effectively?
There are several methods you can use to get health and skin benefits from hemp seed oil.
Topically: It is recommended to do a patch test before applying the hemp seed oil directly on your skin. Do notice if you see or feel any reaction. In case you don't, then the oil is probably safe to use. Apply hemp seed oil either to your face or body where you think you need extra nourishment. Massage a few drops over a cleansed and moisturized face. However, if you do feel any redness, burning sensation or itching, you can assume you are sensitive to the oil, and you shouldn't use it. Immediately wash the spot with soap and water. When it comes to treating any skin issues your dog must be facing, just apply hemp seed oil for dogs skin on their skin or affected areas.
Orally: Another method to take the benefits of the hemp seed oil is ingesting, which can provide the same skin and health benefits as using the oil topically. Taking hemp seed oil orally reduces the risk of any skin irritation or breakouts. This method is also recommended when you do not like the taste of consuming the hemp oil straightaway. It is recommended to have one or two teaspoons daily. Either all at once or divided into two doses. One option is to mix it into your usual foods, like salad or soup, or you can use it for cooking.
Bottom line
Whether you are applying hemp oil topically or ingesting it orally, hemp seed oil offers a number of benefits for your skin and gut health. Not just for humans, the hemp seed oil is very beneficial for your pets as well. It is because dogs and we have something in common; the endocannabinoid system. The only way to take advantage of the host of benefits hemp seed oil comes with is by buying the oil from a credible and trusted brand like Hempstrol. It conducts strict testing on all of its products to ensure you get the potent hemp seed oil. Just like with everything, take a consultation from the doctor in case you face any side effects.