PET Skin & Pain Management CBD Balm 1000 MG
Source: Colorado, U.S.A
Super Potency
1000 Mg
C02 Extraction
100% Non-Psychoactive
Raw and Organic
No Preservative and Additives
Bottle Size: 125 ml Glass Balm Carrier
Packaging: Biodegradable Jute Potli Bags

Ships in
# Time required to prepare order for shipment is one day.

Average delivery time
# Average time required for delivery after shipment is usually 4-5 working days.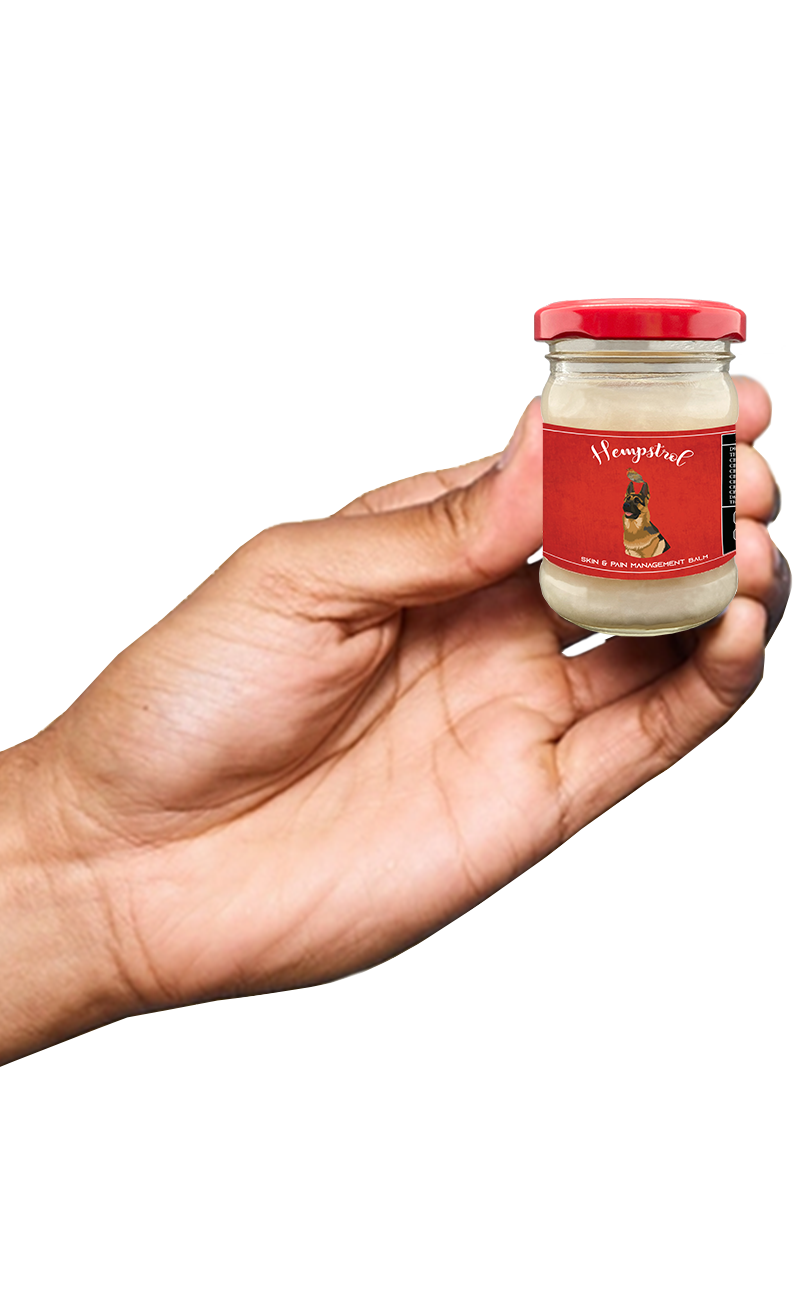 Give your pets some ease, with Hempstrol's CBD for dogs, infused with Hemp Healing Balm and other natural ingredients which won't cause your pets to suffer from any side effects.
Formulated in Colorado, USA, CBD for Pets is specially created for your dogs and cats to deal with pain, improving their mood, this powerful Full Spectrum Pet healing balm will certainly leave your pet for more. It is made by our finest hemp extractors who have experience of more than 25 years and ensure it can be useful in managing different types of pain your pets suffer from, ranging from joint pain and arthritis to cancer and inflammatory-related pain. As a pet-owner, you can apply the CBD oil for dogs India balm daily, up to several times if needed provided it is recommended by your vet and can be used long-term if your pet has a recurring issue.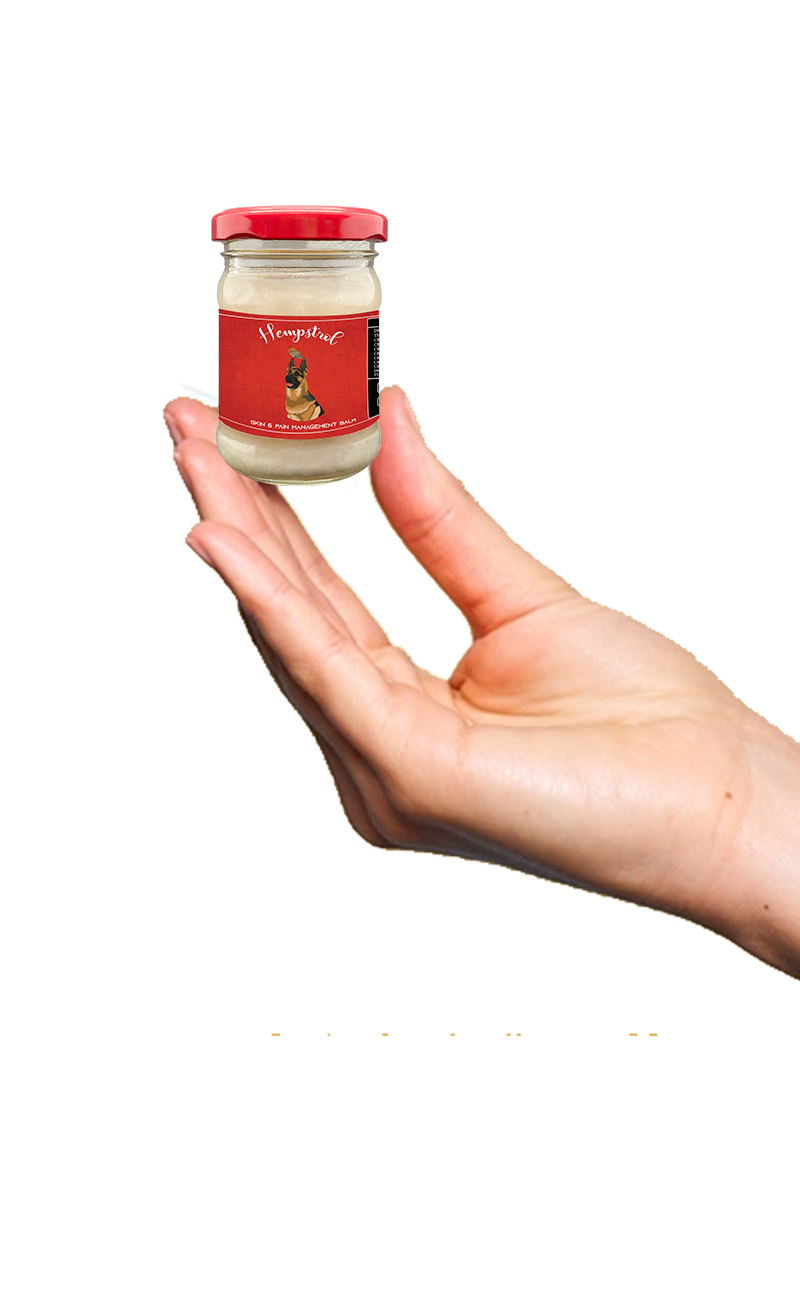 Storage
It is advised to keep it in a dark and cool place due to its super greasy texture. The super greasy texture has been developed to ensure it is able to absorb within your skin and your pet's skin easily.
Key ingredients of Pet Skin and pain management balm?
CBD Balms have therapeutic and healing properties for Skin and Pain management. Made with natural, organic, and 100% chemical-free ingredients, it is rich in Cannabinoids, Omega 3:6:9, magnesium, and other essential oils. Peppermint Extract, 1000 MG Full Spectrum Cannabinoids, Omega 3:6 Protein, Zinc, Organic Colorado Beeswax, African Shea Butter, Vitamin C, D & E. These ingredients regulate the skin health of your dog by improving moisture barrier, neutralising allergic reactions, stimulating proper growth of skin cells and other means essential for healthy skin.
Is this balm right for my pets?
Hempstrol's CBD for dogs balm is 100% natural and our team has selected the ingredients which can soothe and moisturize the skin. CBD for Pets works with local cannabinoid receptors that are located in your dog's skin. The endocannabinoid system keeps many bodily functions of your pets in check and is known to provide calmness, relief from anxiety, and other good things.
How should I use CBD healing balm?
CBD oil for dogs India is a topical solution that can be applied directly to a point of soreness or pain. There's also evidence that topical CBD products for pets like balm can help with various pain sensations, including Arthritis-related pain. For you, pet skin and pain management CBD balm can become a relaxing part of your bedtime routine. For your pets, it can help immensely with their joint pain if applied to the pet's fur or under it. CBD balms are often thick, almost solid, and waxy and intended to be used directly and under no circumstances it is to be applied to the face area of the pets especially near the eyes. Take some part of the balm in your palm, rub it between your hands and allow the body heat to make it warm before you apply it to the affected area of your pet or on your own.
Disclaimer
Regardless of where you buy your Cannabinoids products from, it is important to make sure that the company is GMP complaint and has up to date third party lab results for all its products. Our manufacturing unit is one of the few companies to be GMP certified and above and beyond safe with an ISO 8 certified lab.

Our products are NOT MADE IN CHINA. We have developed technologies to extract the best oil, balms and fabrics only in India and the USA at the moment. The hemp industry is where 'You Get What You Pay For' and we are committed to bringing only the top-quality hemp products for you.

Due to FDA regulations, no hemp extract manufacturer is allowed to make health claims about CBD, CBG, CBC and CBN products. We encourage all our customers to research the widely available information online regarding the compounds found in therapeutic hemp.
Ultimate PET Skin & Pain Management CBD Balm 1000 MG Buying Guide