CBD for Dogs Complete Care Pack
BUNDLE SAVINGS: Upto 15%
Pet CBD oil and Skin & Pain Management CBD Balm for Pets 1000 MG
Organic Hemp derived
Rich in Cannabinoids
Omega 3:6:9 & Magnesium
100% Non- Psychoactive
Safe to Consume

Ships in
# Time required to prepare order for shipment is one day.

Average delivery time
# Average time required for delivery after shipment is usually 4-5 working days.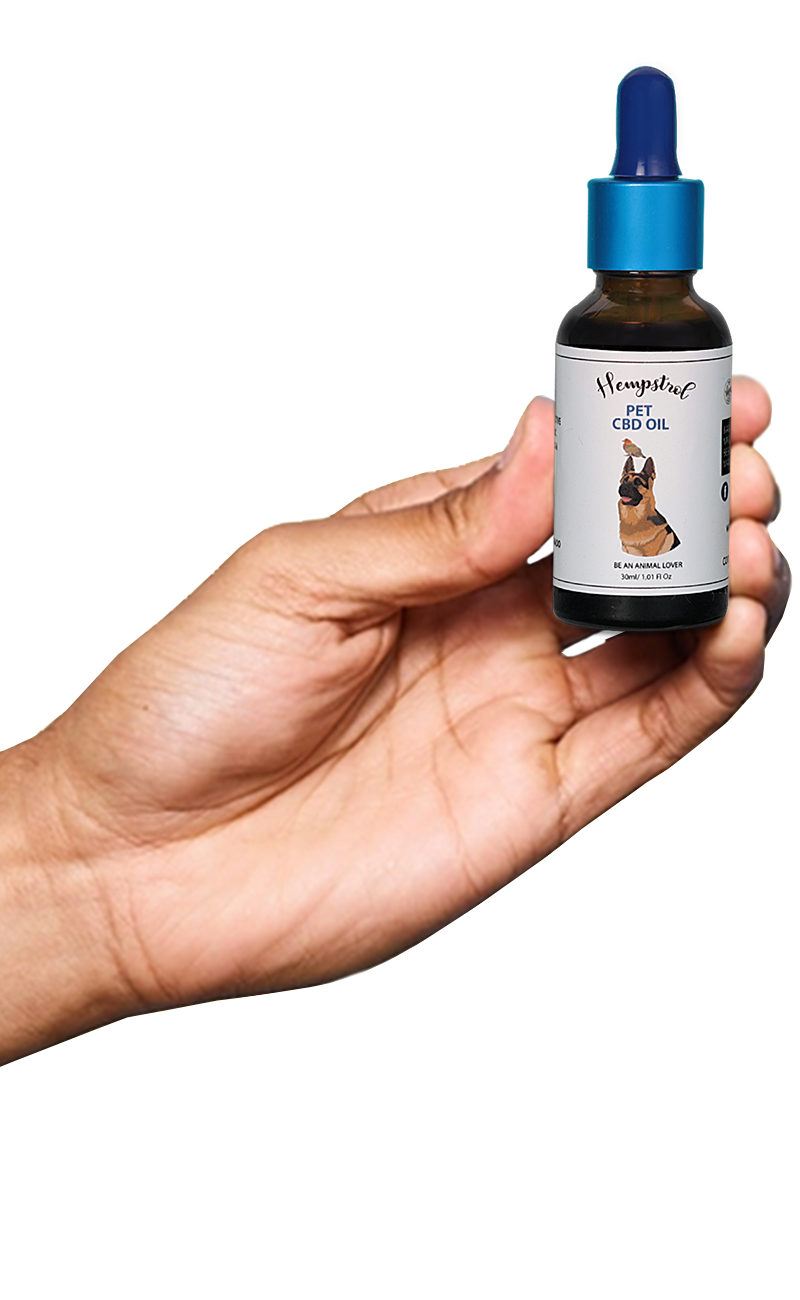 This bundle contains two products: Pet CBD oil and Skin and pet management balm and its brief description is given below:

Pet CBD Oil: Our CBD Products for Pets are made with 100% organic hemp and we use selected healthy hemp plants in the composition which are grown indoors. We have CBD Oil Pets in different ranges and each one of them has a concentration of approximately 50 mg of Cannabinoids Content per milliliter of Oil. Hempstrol offers its customers a range of Pet CBD Oil from 500 MG, 750 MG, 1000 MG, and 1500 MG. We always suggest that you should take advice regarding dosage from only a Cannabis Clinician Vet who can guide you on how much CBD your pet's condition requires as well as the drop count.

CBD balm: CBD balm has therapeutic and healing properties for Skin and Pain management. It is made with natural, organic, and 100% chemical-free ingredients. Being rich in Cannabinoids, Omega 3:6:9, magnesium, and other essential oils, it helps to regulate the skin health of your dog and improves moisture barrier, and neutralizes allergic reactions. It is a topical solution that can be applied directly to a point of soreness or pain. There's also evidence that topical CBD products for pets like balm can help with various pain sensations, including Arthritis-related pain.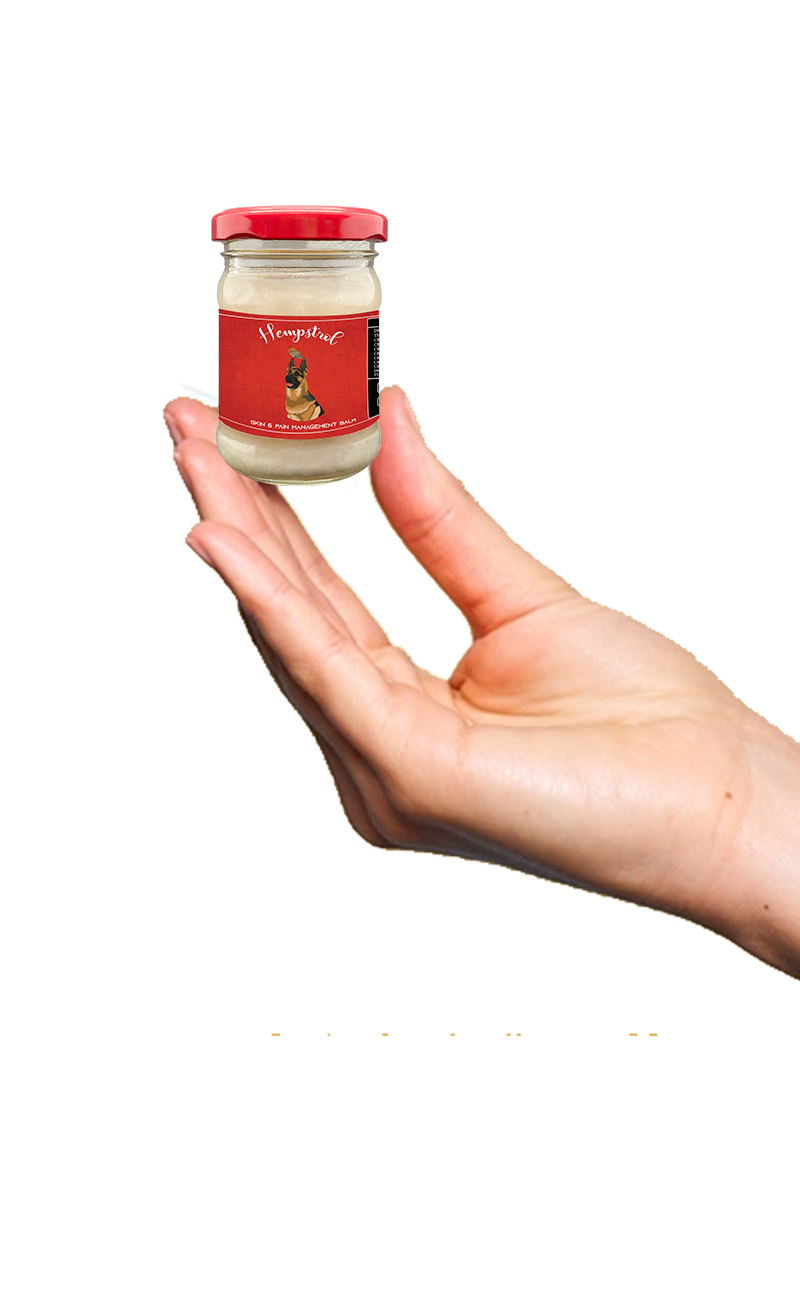 Can I give the same CBD for Humans to my dogs?
No, you should not use regular CBD oil on your pets due to various reasons. There are several brands available in the market that market their product as "two-in-one" products both for humans and pet consumption. We at Hempstrol strongly advise people to refrain from buying from such brands. The bloodstream in dogs and humans behave differently and the organs of a dog and a human are not the same kinds. It has been noticed that the dosage that a dog requires is different from humans. Due to the aforementioned.
How should I administer CBD oil for pets to my dogs?
CBD oil for pets can be incorporated into your pet's life easier by putting recommended drops right in their mouth, or you can put drops as suggested by the vet in your pet's food or water, or as a treat. To avoid confusion related to dosage, take a medical consultation with our vet on board that will not only guide but also advise you on how much MG you should be given to your pets. Just like humans, every dog will respond to CBD differently. As a pet owner, if you are going to use CBD as a health supplement for your dog, it is best to start with the lower quantity first calculated as per your pet's weight and then increase eventually and gradually.
How to know who is offering the best CBD products for pets?
There are a few pointers which if you keep in mind will help you select the best CBD product for your dogs. The product you choose should be a Full Spectrum CBD Oil and should have less than 0.3% THC. It is of far much better quality if it is made with the best indoor-grown healthy hemp plants. At Hempstrol, we provide our customers with authentic third-party testing that ensures you are getting a CBD oil for pets that is free of additives, artificial flavouring, and terpenes. Those pet owners who would like us to devise a treatment plan for their dogs can get a vet consultation.
Where to get the bundle pack of Dog's complete care?
You can order the bundle pack from our website and you will be able to save money when you buy the pack. Hempstrol is one of the best options to consider if you are in the market to buy CBD products for your dogs as we are licensed by the Rajasthan Drug Control Organization. Our CBD Oil for pets and balm is extracted using a combination of SuperCritical and Subcritical Co2 Extraction and the Hemp plants used in the composition are from the world's best Indoor Hemp farms in Colorado, USA. We deliver all over India and also across 30 countries globally. Our website has all the necessary details a consumer would require and need while making the decision.
Amount per Serving
A clinical study conducted at Cornell suggests that 2 mg of CBD oil twice a day can help in increasing comfort and be able to promote activity in dogs suffering from osteoarthritis. Hempstrol sells various CBD-based products and one of our ranges is Pet CBD. Under this, we have different variants of products for pets such as Pet CBD oils and Topical Skin & Pain management pet CBD balm 1000 MG. Our products can be given to your pets to help them treat various mental and physical ailments your dog might be suffering from. All of our CBD-based products for pets are essentially a Full Spectrum CBD Oil which has a top potency of CBD followed by CBG, CBC, and CBN; these cannabinoids work together efficiently and provide faster relief to your dog. You should remember to get separate CBD products for yourself and your pets. This is due to the fact that the structure of the endocannabinoid system is not the same as in humans and CB1 and CB2 receptors work differently. Thus always get CBD for Pets that has been specially formulated for your dogs that could help in better treatment and recovery.
Disclaimer
Hempstrol is GMP compliant and has up-to-date third-party lab results for all its products. Our manufacturing unit is one of the few companies to be GMP certified and have an ISO 8 certified lab. Our products are NOT MADE IN CHINA. To ensure you get a credible product, we encourage all our customers to research the widely available information online regarding the compounds found in hemp extract.