CBD Softgels 750 MG
Ingredients: Full Spectrum CBD Oil Infused Soft Gel
All-natural with no additives or preservatives
Made from non-GMO hemp plants grown on select farms in Colorado, USA
100% Organic; NO herbicides, pesticides, or chemical fertilizers used
All of our wellness products are lab-tested for quality and purity
Our product is concentrated to approximately 15 mg cannabinoids per Soft Gel

Ships in
# Time required to prepare order for shipment is one day.

Average delivery time
# Average time required for delivery after shipment is usually 4-5 working days.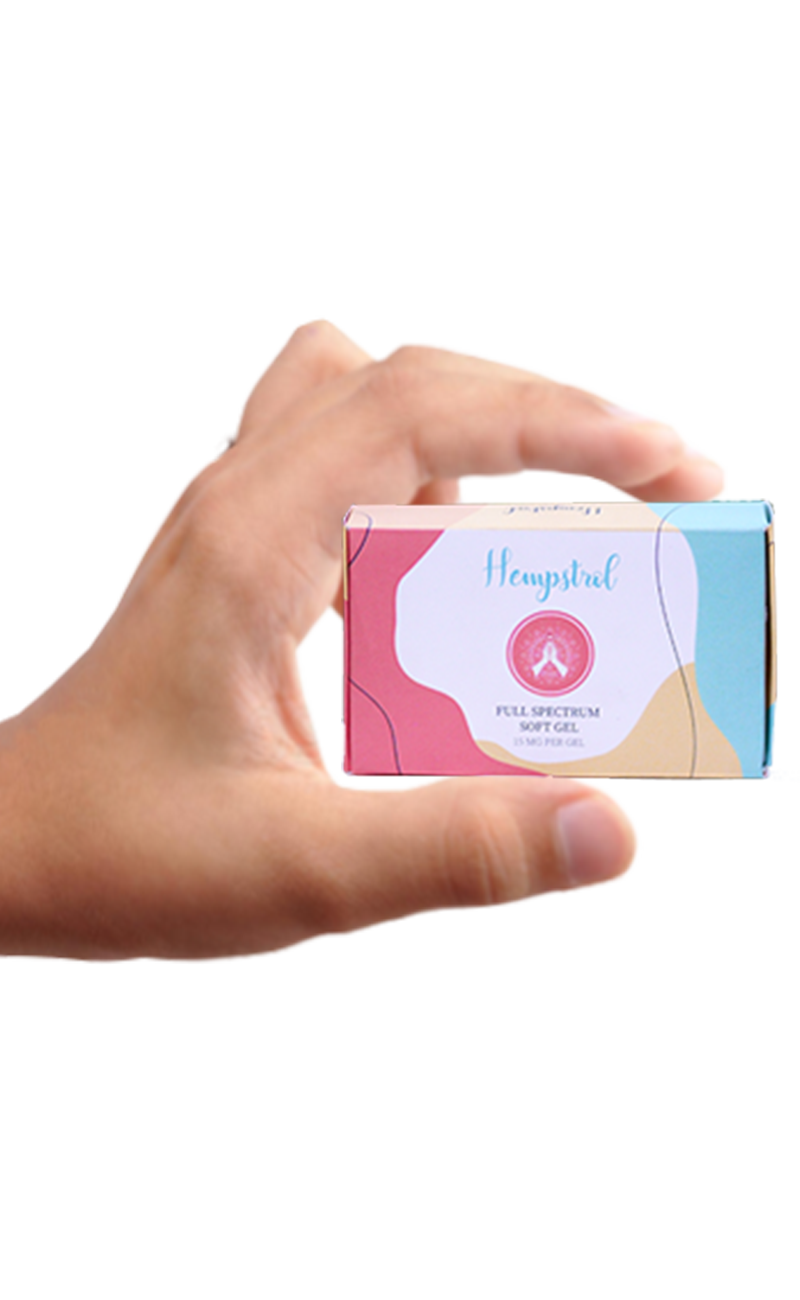 Anxiety disorders are the most prominent health conditions across the world. Not just anxiety, joint pain, knee pain, have also become quite common to hear. If I tell you there is an ingredient out there that can treat all of this and can even help you sleep peacefully, would you believe me? Introducing India's First-ever Full spectrum CBD Softgel in India from the house of Hempstrol. CBD softgels have powerful pharmacological effects and have beneficial anti-inflammatory properties. It works by blocking enzymes that trigger inflammation in the human body. In the digestive system, it interacts with the receptors in the brain that regulate fear and anxiety-induced behaviors. These Soft Gels are 100 % Organic and have a higher absorption ratio.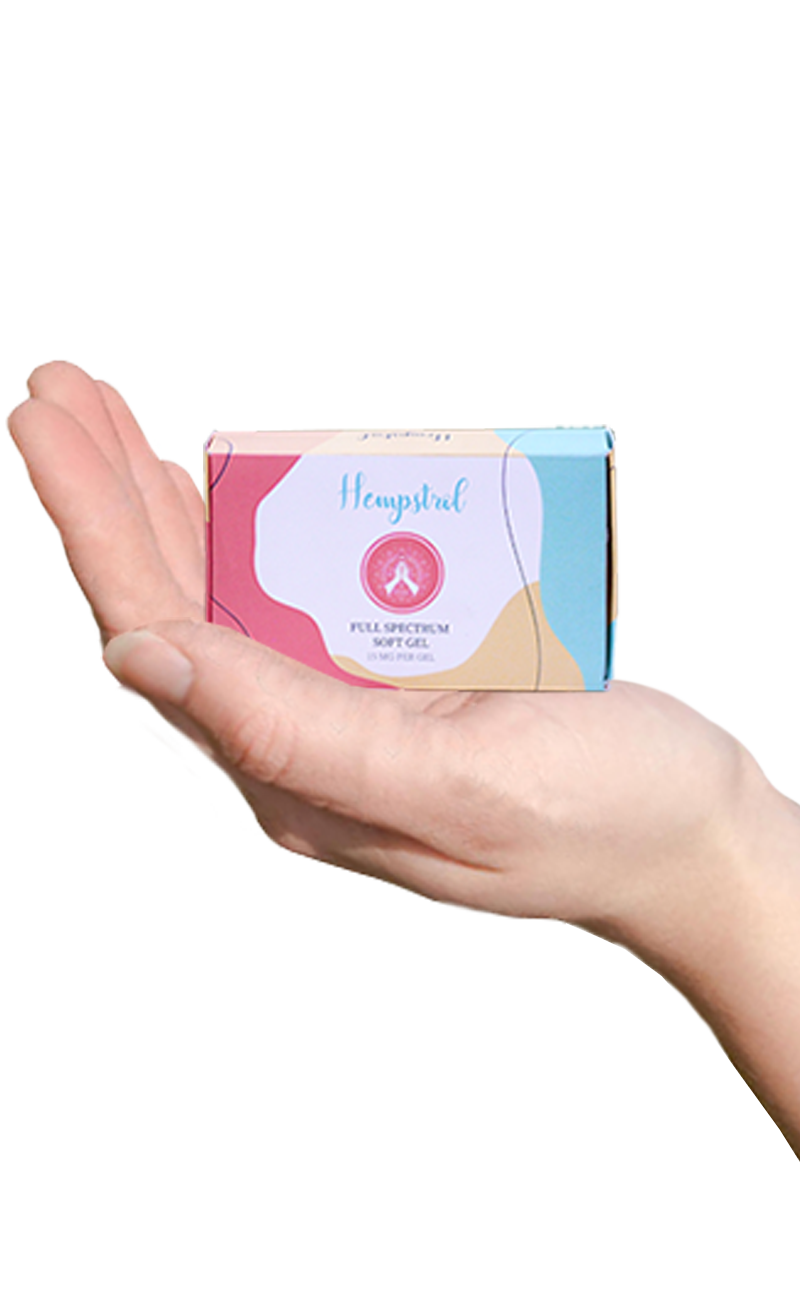 Will CBD Softgel help with my anxiety?
Consuming CBD Full spectrum CBD Softgel in India is an effective treatment for numerous types of anxiety disorder including generalized anxiety, post-traumatic stress disorder, obsessive-compulsive, panic disorder, and social anxiety disorder. It can become an effective tool not only in reducing anxiety but helping you have sound sleep. CBD contains anti-inflammatory and anti-spasmodic properties that improve blood circulation and regenerate cellular activity. Further CBD works by interacting with CB1 and CB2 receptors of the endocannabinoid system. The immediate effects of CBD softgels usually take effect within 30 to 60 minutes.
Why should you use CBD softgel?
The shell of CBD softgels is soft, made of plant cellulose or gelatin, do not have a bitter taste and because of this one can easily swallow them with ease. If you wish to gain the benefits of CBD but don't prefer other CBD-based products, then take CBD softgels. CBD softgels can even be consumed by people suffering from arthritis as studies have shown it can get rid of the joint pain suffered by those affected by arthritis. CBD softgels are highly effective in reducing pain and inflammation. For those who are having anxiety and depression, CBD softgels help to reduce stress. It is the best alternative in comparison to other pharmaceutical medicines which have a lot of side effects. The regular consumption of CBD soft gels can help prevent diabetes and cancer. The CBD softgels may also help in alleviating blood pressure. Bottom line, if you buy CBD oil India, you can see various health benefits from easing your anxiety to helping you get rid of joint and knee pain.
Why is each CBD SoftGel the same in strength?
When Hempstrol manufactures CBD Softgel, it assures that the strength of the CBD product remains standard. This is primarily done to make sure that the customer understands the product and uses it with ease. For example, our CBD Oil in India is 60MG per ML and our CBD Soft Gels are 15MG per ML. If a patient is prescribed 30MG CBD daily then he can opt for our CBD Soft Gels to complete his dosage by just popping 2 pills of 15 MG each in the morning and evening.
What is the taste of my Softgel?
Hempstrol makes sure that their CBD Softgel India does not carry any artificial flavors. We believe that by adding artificial flavors to CBD, the cannabinoid profile of the product gets hampered. Hempstrol has the best CBD Oil in India and manufactures it in an excellent manner and in a safe environment. Our CBD Soft Gels are made of Vegan Gelatin and are tasteless. You won't feel any kind of bitter or sweet taste when you pop our CBD Soft Gel. A tasteless CBD Soft Gel is beneficial as it has a neutral taste and you would have no aftertaste of it.
Will I get high after consuming CBD Softgel?
Hempstrol is the only Medicinal Hemp Company that makes CBD Softgel India. Our CBD Softgel is 100% non-psychoactive. You will not experience any hallucinogenic effects on your body that can interfere with your mind or the way your body functions. You can refer to our Third-Party COA to know more about the Cannabinoid profile. CBD is a non-psychoactive compound and Hempstrol's CBD Soft Gels contain the highest percentage of therapeutic cannabinoids like CBD, CBG, CBC, and CBN. Shop confidently and see the positive changes that CBD brings to your life.