How to Market CBD? Your 101 Guide is Here
It is not every day that we see a product not just in India but globally that manages to grasp the attention of a consumer market within such a short space of time. Cannabidiol, or CBD as most people call it, is perhaps one of the most frequently discussed potential treatments for various physical and mental ailments.
Before CBD products in India got so famous, everybody used to think that derivatives of the cannabis plant only make people feel high. Before moving forward, let's clear up this confusion. Cannabis has over 100 compounds, and CBD is one such compound. Another compound present in this plant is called THC, also known as Tetrahydrocannabinol, which has a psychoactive constituent. In plain language, it is that compound that makes people feel high. Now we have a large amount of data, research, and studies pointing to the therapeutic potential of hemp's non-psychoactive chemical compound called CBD. It claims to help people with anxiety, joint pain, body ache, and so much more, and due to this, it is attracting a lot of consumers of all ages. Not just humans, pet parents are giving this to their pets as well.
Thanks to the word of mouth marketing and ever-evolving research in this segment, the CBD market, or cannabidiol oil India as it is called is constantly evolving. It wouldn't be wrong to say that CBD controls an industry of its own. If you are the manufacturer of a CBD-based product in India, you can perfectly understand why the demand for effective CBD marketing is also on the rise. This is considered to be the best time to cash in on the rush. If you are a company or an individual wondering how to market CBD products effectively and legally, then you will need to use an effective strategy. Some of the strategies have been explained below: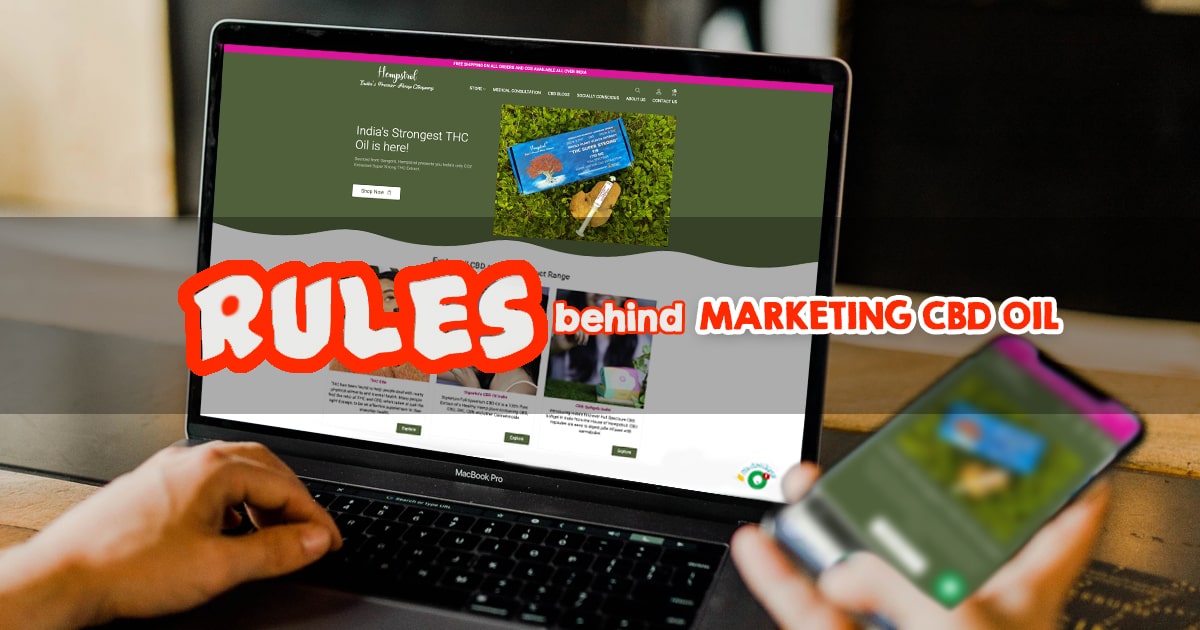 First thing first, understand the rules behind marketing CBD oil.
When it comes to laws around hemp and marijuana, its language is not everyone's cup of tea. However, to be able to successfully run a CBD oil business in India, you need to understand the rules so you can align your business with statewide laws.
Apart from that, there is a constant education element that is also involved with this business. There are so many people who don't know the difference between hemp-based CBD products or marijuana-based, etc. Before stepping into this business, educate yourself about the different strains and compounds available around you. There are so many compounds present in this plant. CBD is one such substance that doesn't induce feelings of psychoactivity. It can be extracted from either the hemp plant or marijuana plants. Hempstrol is one such brand available in India which uses industrial hemp for all of its CBD-based products.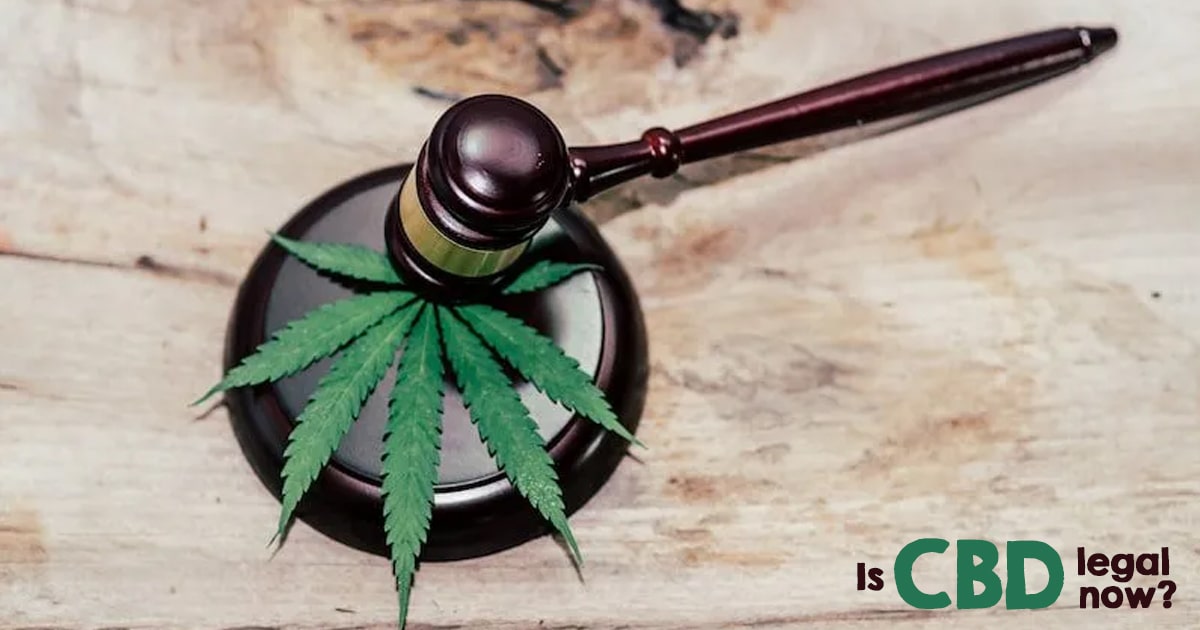 Is CBD legal now?
Hemp-derived CBD compound and products made from this compound are legal to sell and consume in India, provided the THC content in those products must be within the 0.3% permissible limit. Above the 0.3% limit, the manufacturers need to take permission from the Ministry of Ayush to be able to sell it legally.
Important Aspects of CBD Marketing
The surge in CBD marketing is hard to ignore. It is truly upon us in every form. If you are starting in CBD marketing, it is imperative to know a few aspects beforehand:
Pay attention to credible websites that provide the most recent information on the legal status of CBD in India. Also, follow the news to know what is happening around the world in regard to CBD and THC.
Consult a lawyer for advice. The legal status of the substance is governed by both state law and federal law, depending on where you live. To ensure your product doesn't fall into the other category of Marijuana, you need proper legal advice.
What can you not say when you are advertising CBD?
You might feel tempted to claim your CBD does miraculous things but refrain from using these kinds of words in your content or while marketing your CBD in the Indian market. The food and drug administration doesn't approve of this. Making health and medical claims is not something you want to do when you are promoting CBD. The FDA certainly doesn't approve of this and will make your marketing campaign offline.
It is very much possible that one of your customers saw a huge improvement by incorporating CBD oil alongside their particular diet. But putting an extra spotlight on these aspects is not legally advisable. Only a doctor is authorized to do so. So, don't make the mistake of assuming or suggesting this to your customers.
Every single thing you say should be backed by reputable sources and cited when necessary. Anything that cannot be proven shouldn't be used in your marketing material.
How to market your CBD products well in India?
In India, every one of us has some or other bodily and mental issues. Hence, marketing your CBD product well is the key to tapping into this issue. They need help with their various issues, and you are going to market your CBD product in such a way that helps them deal with their issues well.
As of now, there are actually thousands of CBD-based products available in India right now. The space is already jam-packed, with more companies being established on a daily basis. Hence differentiating your brand is going to take a lot of time. Educate your consumers about your brand and what it does best with constant education, either in the form of blogs or on social media.
Another way to engage your audience is by creating compelling video content. To find the topic on which you should make a video, carry out surveys amongst your target age group, and in the video, educate them on how a particular CBD product can benefit them. Conducting surveys will make you aware of your audience's needs and wants and will inform you about areas where you might be failing to satisfy customers.
Doing your CBD marketing well can ensure you are able to work on long-lasting relationships with your customers for the longest time. Feature legitimate customer testimonials on your website will boost your reputation and ensure your customers keep coming back to you. Send out newsletters, offer discounts for recurring customers, and encourage them to refer a friend in return for a free product if you wish to increase the likelihood of customers returning.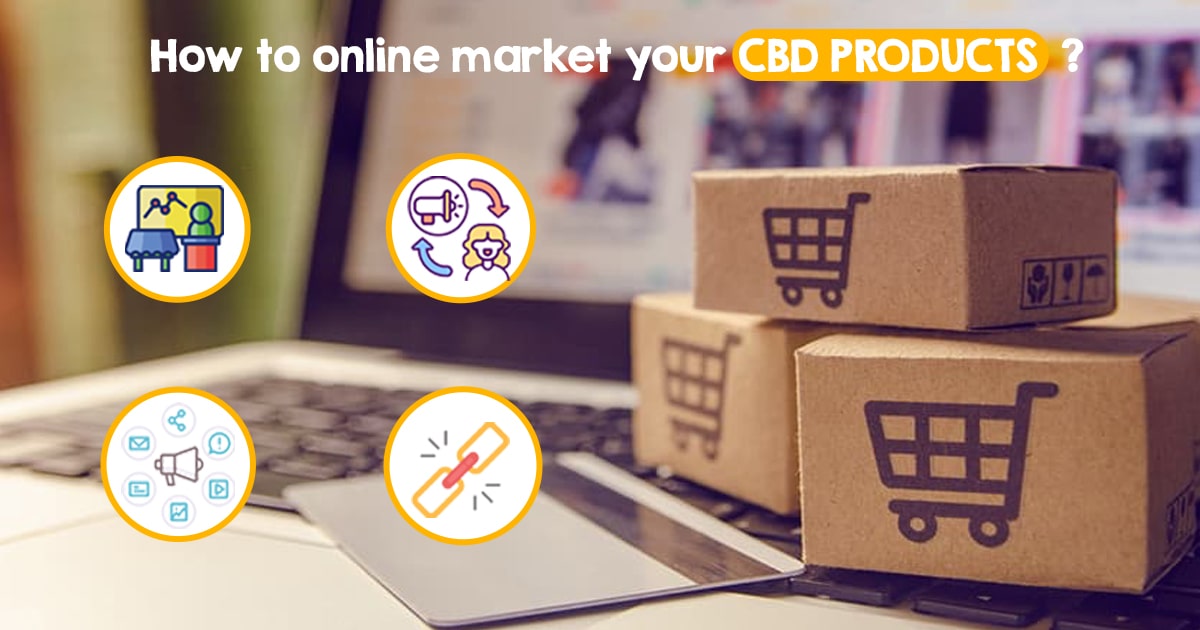 How to online market your CBD products?
Focus on SEO: One of the organic ways to build your brand is by learning SEO or hiring an expert. With SEO, don't overdo it. Practicing proper SEO will ensure that you are seen as a trusted leader in this industry. Your SEO expert will provide you with high volume keywords associated with CBD, and you need to implement them throughout your blog posts, articles, and other web content. Share your content on different social media channels.
Attend Trade Shows: It is in the trade shows that you will get to see your competitors face to face. This is also the best way to demonstrate what your product can actually do to your consumers. At fairs, there is a possibility of attracting a new audience and potential investment.
Influencer marketing: The more diverse your marketing is, the better the chance of attracting your target audience. Influencer marketing is one of the fastest-growing segments in the marketing world. Narrow down on one influencer that aligns with your brand philosophy.
Content marketing: Writing keyword-friendly, educational content that keeps people coming back for more, whether you choose to write the content yourself or decide to outsource your content marketing to an expert in the field.
Link Building: The link-building marketing strategy can never get old. Your website will move up the search engine results if you guest post on reputable websites in exchange for a link back to it. If you want to increase traffic to your website or blog, make sure to gain inbound links as well as outbound links that should point to authoritative websites in the hemp and cannabis industries.
Conclusion
CBD is not just any old cannabinoid; its properties have victoriously leaped over hurdles that skeptics once thought were impossible to overcome. In spite of the fact that the major social networking platforms do not currently allow CBD advertising, there are ways to navigate your way out of this situation.
Before you start creating content for your CBD marketing campaign or if you are manufacturing a product that involves CBD and THC, take into account the CBD's legal status in your state. Educate yourself on what the current laws state. Also, educate on other aspects such as data on a number of ailments and diseases which CBD can treat, etc. Whatever you write, make sure it is authentic and is accompanied by credible scientific support.