Himalayan Hemp Seed Oil for Pets
Pure Organic Formula of Himalayan Hemp Seed Oil
Omega 3 & Omega 6 Protein
Rich in Magnesium
Both Consumption and Application Purpose
100% Safe & Effective

Ships in
# Time required to prepare order for shipment is one day.

Average delivery time
# Average time required for delivery after shipment is usually 4-5 working days.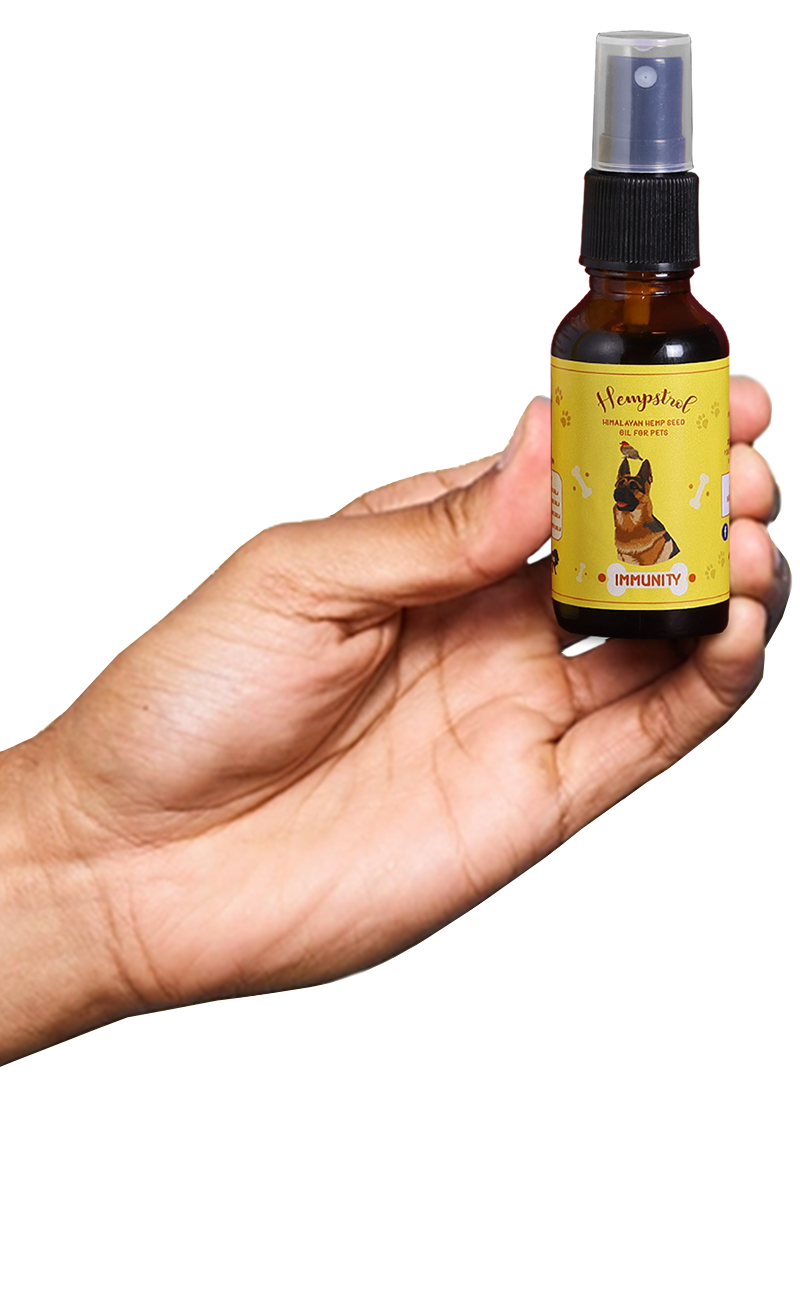 Made with Rich Himalayan Hemp Seeds our "Himalayan Hemp Seed oil for Pets" is the ultimate Hemp Nutrition for your dog. Hemp Seed Oil, known for the variety of problems it can treat, has been very effective on health conditions related to skin and coat such as eczema, dandruff, and rashes in pets. It can moisturise the dogs' skin and can also decrease shedding. Our product provides omega 3 fatty acids which is very important for a dog's healthy growth and development. Omega 3 can help in dealing with allergies, heart diseases, arthritis, etc. It also provides omega 6 which can cure inflammation. Our product is also rich in vitamin A and E that strengthen the immune system of dogs. Hemp seed oil for dogs can also offer relief from tension, stress, and anxiety in dogs. Owing to their innumerable health benefits, our products are demanded by pet parents across the country.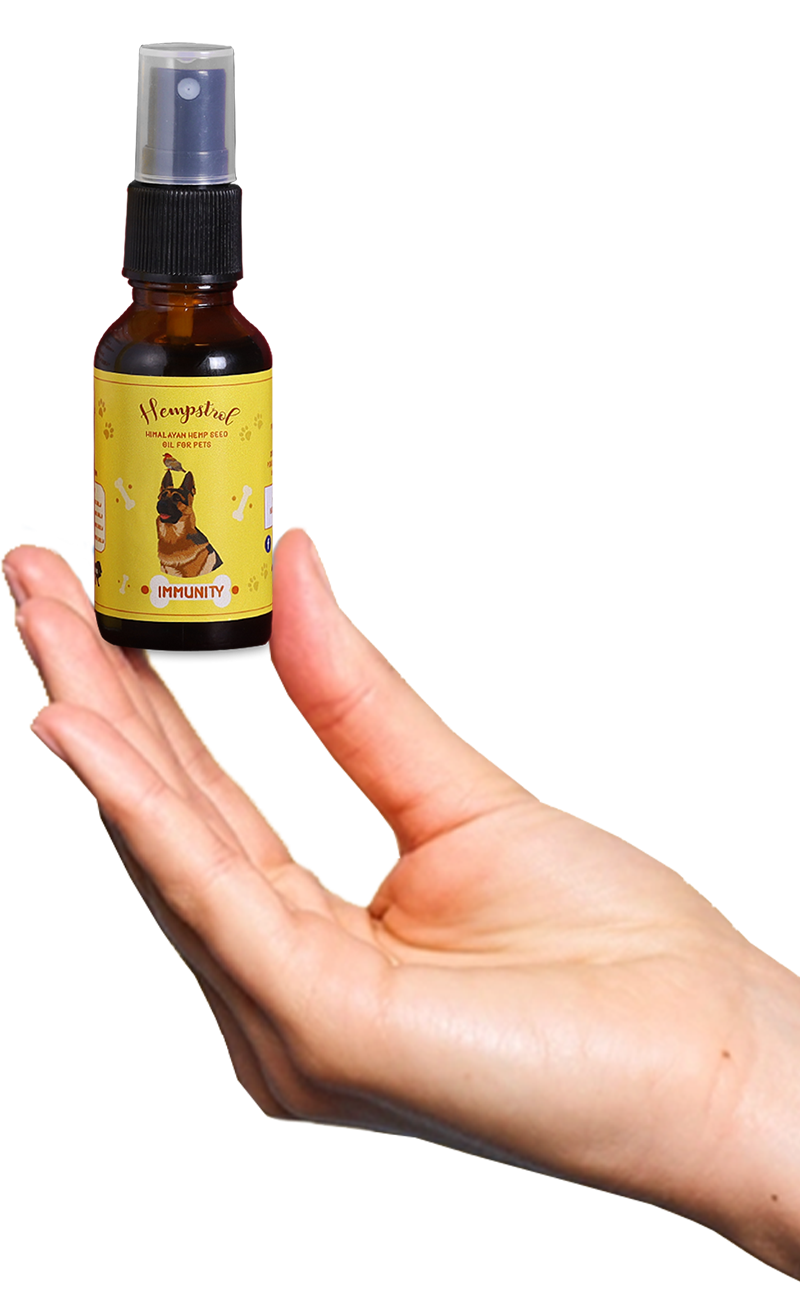 How do I determine the right dosage for my pet?
Determining the correct dosage when you buy Himalayan Hemp seed oil in India depends on their weight, skin condition you are treating, any disease they are suffering from. While hemp oil can be given for the general well-being of health for your pets that are physically and mentally fit, the right dosage is very important to be able to see improvement in their health. In this scenario, we would advise pet-owners to take medical consultation with us regarding their pet health with our vet on board. They will write you a prescription and will indicate the number of drops required for your pet for better recovery from any disease or skin condition.
Is Himalayan Hemp seed oil safe to give to my pets?
Hemp seed oil is derived from the seeds of the Cannabis Sativa plant. Those who are wondering whether usage of this oil will make their pets feel high can relax as it doesn't have THC (Tetrahydrocannabinol), a chemical substance known to give a ''high" feeling due to having psychoactive properties. Himalayan Hemp seed oil is devoid of this substance and is absolutely safe to consume.
What are the major benefits of Himalayan Hemp seed oil?
Just like it has proven to benefit us from de-stressing to treating our skin concerns, it is equally effective for our pets. Remember, when you buy Hemp seed oil for dogs in India, you have to dig deeper if it has many scientifically proven benefits that can help your pet immensely when administered properly.
If for some reason you do not prefer CBD-based products for your pets and want to go the other way, then Hemp CBD oil India or Himalayan Hemp seed oil can be your pet's new friend. It's a multi-purpose oil; it can be used both orally and topically. For topical application, massage it on your pet's skin or on the area where you observe they scratch quite often as hemp seed oil can treat many skin conditions. In case you want to administer it orally, hemp oil for pets can be given by mixing it with their food.
Helps in their Anxiety
It is no secret that our pets are more sensitive than us Humans. Hence, anxiety is quite common amongst pets than we can imagine. For example, anxiety can surface owing to separation from the owner, a new environment, or loud noises. Heightened levels of anxiety can affect any pet and may throw them off balance. Most Pet parents buy Himalayan Hemp seed oil in India for its benefits, the many therapeutic properties and is the fact that it is known for its relaxing effects if consumed orally. Relieves in their arthritic pains: If you have an old pet then it is natural they might be having arthritis pain. The anti-inflammatory properties of hemp seed oil will heal and strengthen the body. Helps to reduce the shedding: If the mane of your pet has been shedding for quite a long, applying hemp seed oil on their skin can help in soothing the skin and healing it too.
Disclaimer
Regardless of where you buy Hemp Seed Oil for dogs in India, it is important to make sure that the company you choose is GMP compliant and has up-to-date third-party lab results for all its products. Our manufacturing unit is one of the few companies to be GMP certified in India and have an ISO 8 certified lab. Our products are NOT MADE IN CHINA. We have developed technologies to extract the best oil, balms, and fabrics only in India and the USA at the moment.
Ultimate Himalayan Hemp Seed Oil for Pets Buying Guide